Just a preview before Worlds…come visit our pit to view the entire robot.
[ATTACH]7336[/ATTACH]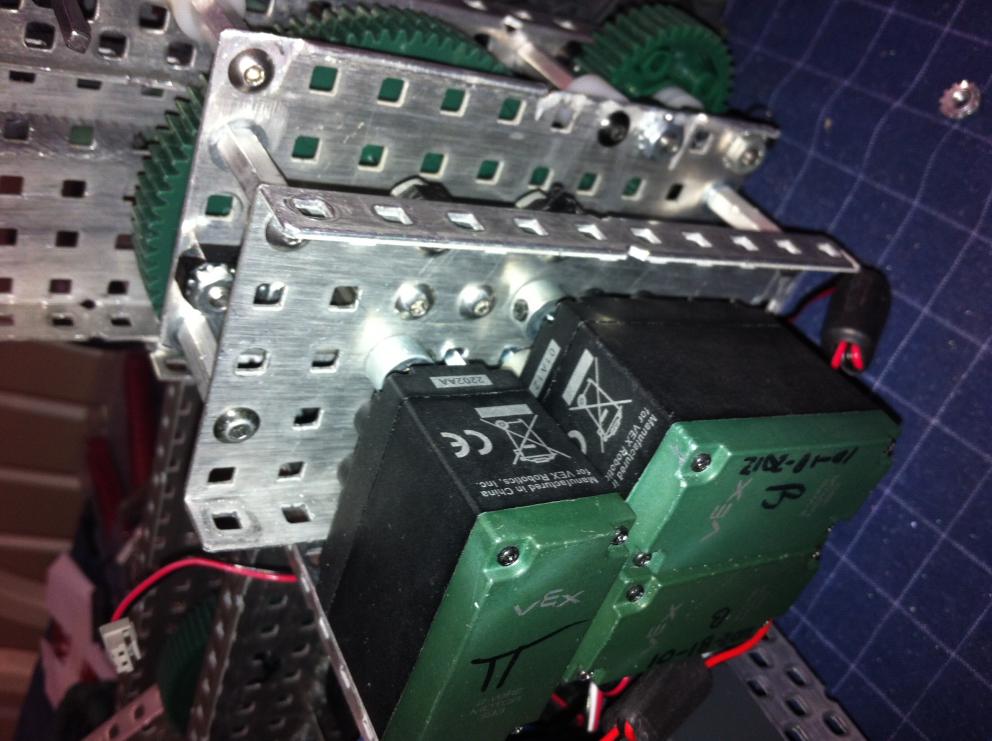 Let's analyze this picture:
You have motors
You have gears
You have pneumatics
I have no idea what this is
orientation seems to be decieving. Its his drive train gearbox. My guess.
I think it's a drive/lift transmission.
It could be, but I also see a triangle structural support in the back of the image.
So I have no idea.
Triangular 3 motor to 1 motor axle transfer… I also see a transmission i'm pretty sure. Looks nice, would love to check it out at your pit!
That triangular support looks more like an arm bar attached to the doubled up LS 7-gear. I feel like the robot is on its back with the back of the robot/table on the right side of the photo. Very confusing perspective indeed.
On the motor labeled with a pi symbol, I can see a metal pinion through the metal. I'm guessing the three motors are all connected directly to metal pinions. A fourth metal pinion is inbetween all three motors (you can see a fourth axle poking out between the three collar locks on the motor axles). It looks like this fourth axle also runs through the doubled up LS 7-gear farther back in the gearbox. Meaning all three motors are directly turning this 7-gaer. I see more green to the right of this LS 7-gear, but the final ratio of this gearbox can only be guessed at (x:7).
I agree at the top of the picture towards the right I can see what seems to be a segment of an omni wheel, but why have the motor mount so far down unless they do have a transmission or need extensive space above the motor for different contraptions but still want to fit underneath. Also the solenoid wire means pneumatics which leans me towards a transmission.