What are the specs?
This is my guess:
6m drive
1m ring conveyor
1m lift
Pneumatic clamp at the front and back
Looks great! Hats off to you using cad!
Nice! All done but the building.
The robot simply exists as an excuse to show off my animation, don't think too much into its design.
Wow excellent animations! Had to watch the Pilon's video side by side. Looks amazing!
5225A copy right claim inbound
But…

The reveal might be copied but the animation is one of a kind. Good job!
Lol yeah, I had them side by side when I was animating this.
Hi can I get step by step building instructions for each of the ideas so I can build them for the competition this year. Please modify your instructions to have the bot colored black and red because I am too poor to repaint my c channels.
Quick update, I just realized I uploaded the 480p version and not the 1080p version, so I have now corrected that. My apologies for this inexcusable act of foolishness.
This is awesome!!!1!1!! You have way to much time on your hands. Wish I had the patience and ability to do something or anything similar to that.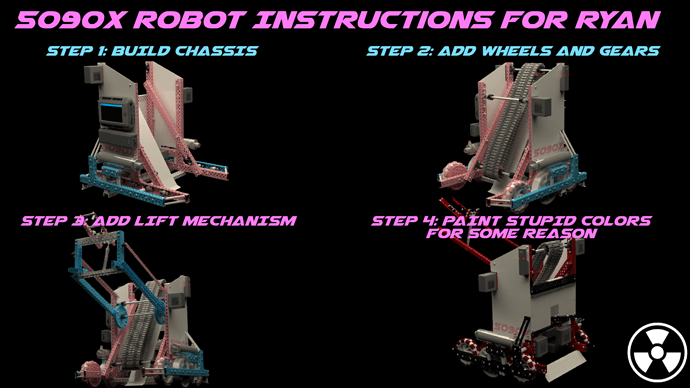 Here you go! I hope this is helpful for your competition this year. I have also attached the robot's full CAD model, in case you or someone else should want it.
5090x_full_robot_cad.zip (24.4 MB)
thank you for being a responsible community member and creating build instructions.
why of course, I would never want to be an irresponsible community member
Wow! This is great!
Do you have any resources on how to model a robot like this and then animate it?
I don't think there are really any resources out there for the animation part yet, but VEX CAD can be very helpful if you want to model robots in CAD.
For anyone who asks the server icon for VEX CAD is accurate to how the server actually is most of the time.
Wait it's new years I need to add fireworks to the icon