944A "Asgard" Mark III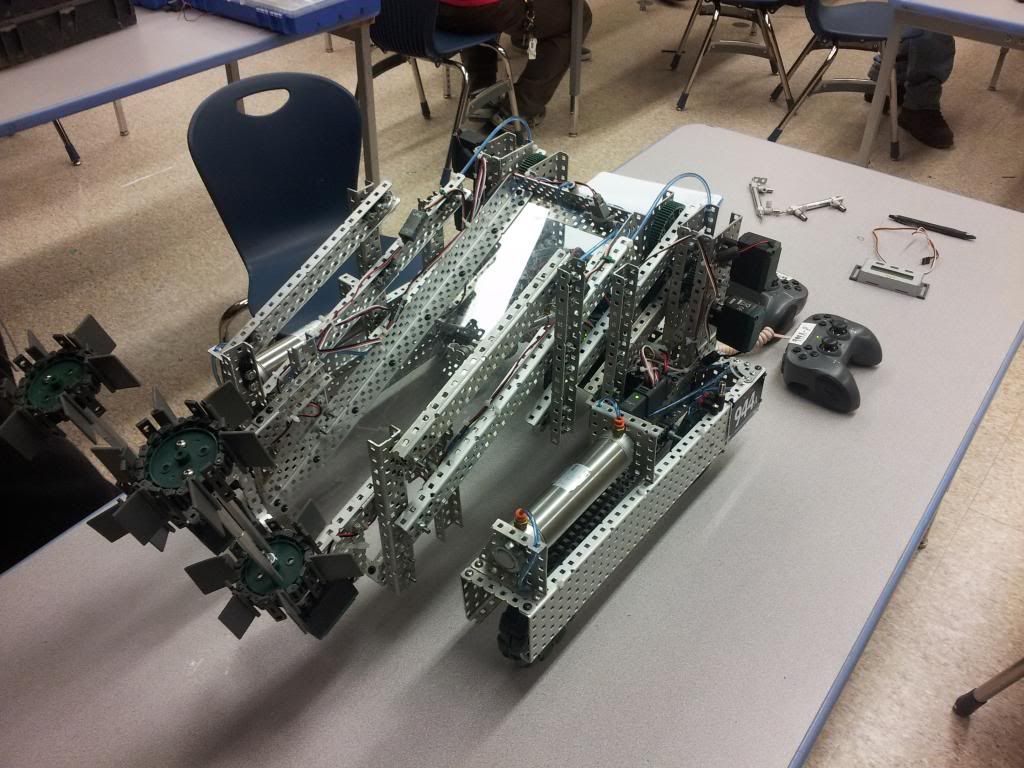 Asgard is currently in the third version of its development process. Asgard Mark I was equipped with a chain bar and side rollers. Asgard Mark II was upgraded to include a second set of top-mounted side rollers to intake the large balls, the pneumatics were redone, and the code was completely rewritten and optimized for optimum performance. The current rendition of Asgard has been upgraded with an 8-bar and a set of single strip to prevent bucky balls from falling out of the tray, and the bottom sprockets on the side rollers were swapped out with smaller sprockets.
Base:
4 393 motors, geared for speed
Two direct drive, two chained
Lift:
4 393 motors, geared for speed
8 Bar Arm
9.325:1 Compound Gear Ratio (Speed motors make 15:1 an effective 9.325:1)
5:1 outside, 3:1 inside
Intake:
2 393 Motors, geared for torque
Two large side rollers intake bucky balls and large balls
Pneumatics:
Two pneumatic tanks provide air for one pneumatic actuator which deploys the flip-down intake during autonomous. A future actuator will be added to assist in the hanging process.
During our testing, several issues were addressed. We found that a 15:1 (Effective 9.325:1) gear ratio was an effective combination of both speed and torque, and the 4 motors gave us the necessary torque to hang at a future date. When we upgraded to an 8 bar, the bottom sprocket on the side rollers had to be swapped for a smaller one due to space constraints. We also found that bucky balls had a tendency to fall out of the tray when the robot was in rapid motion, so we added a piece of single strip to prevent the bucky balls from rolling out. An added benefit of this was that we would not need two pneumatic actuators to deploy the flip-down intake, only one.
Future Plans:
[LIST]
*]Optimize Big Ball Intake
*]Add The ability to Hang (In Progress)
[/LIST]
Thoughts?