Hey everyone!
This is 95E's early season reveal for Change Up! I've put more details in the drop downs below!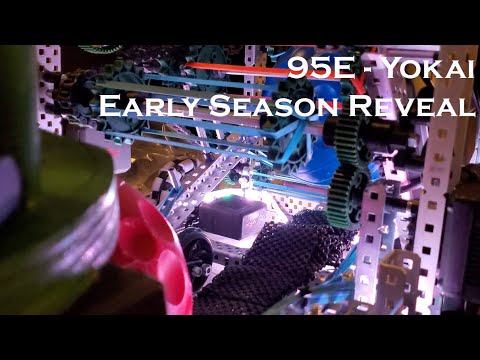 Motor Specs

4x 200 rpm Drive Motors
2x 200 rpm Intake Motors
1x 600 rpm Indexer Motor
1x 600 rpm Top Roller Motor (Chained 2:1 1200RPM)

As we believe cycling out goals to be more important, and to occur more often, than fielding this season, we opted with 200rpm front intakes in order to have more torque to easily descore from goals.

We opted for a 1200RPM top roller in order to consistantly lob the balls into goals, without putting too much stress on the motor. In our testing, a 3:1 1800RPM ratio was overkill - too fast and the motor burned out much faster than a 1200RPM ratio. The standard 600RPM was not fast enough to consistently lob the balls, as they would clip on the side of the goal on occasion.

The 600RPM indexer was the safe bet, as it does not burn out quickly and moves the balls at a reasonable pace. The indexer could be faster, however, and we plan on speeding it up in the future.
Capacity vs Speed

When we started building this robot, we centered the design around having a large capacity, while not sacrificing too much speed. The robot, as shown, has a 5 ball capacity, and a cycle time of about 1.8 seconds. Going into the future, we plan on shifting that in the other direction, as we believe that speed will continue to gain prominence as the season goes on, not to say that it's not important right now. To put it frankly, a 5 ball capacity isn't super necessary, and a smaller capacity will increase cycle speed drastically. We are definitely proud of the robot we revealed, but we plan on having a much smaller capacity in the coming months.
Thanks to SCA for helping me tackle some issues I've had along the way, and for being a general sounding board! Hope you enjoy the reveal, if you have any questions, feel free to ask!