I am planing on using a single flex wheel that goes up with a vision sensor so it can turn on it's own.
that does seem like a pretty cool idea i think a flex wheel would run smoother than a traction wheel
I'm having small flex wheels chained to my intake to save a motor, very similar to Purdue sig bot thing
if you can,can you send a blockly robot mesh code example on how to make the sensor detect the color and stop the motor pls im new and am still learning v5 with robot mesh after using vex cortex for 2 years
(don't quote me on this) but i think you should take the optical sensor into consideration. ive used the vision sensor many times and often it would give inaccurate readings when the lighting is inconsistent. i have not tested the optical sensor enough to know how inconsistent it can be so you should probably test it out
I will take that into consideration with the construction of my robot. However, the only thing with that is an optical sensor is meant to capture color and hue, while a vision sensor can capture the presence and absence of an object in marking the attributes of an object. In which case a vision sensor would be more effective than an optical sensor. But I will still take it into consideration
If you need a sensor just to see color I would recommend the optical. If you want to find the colored object I would recommend the vision. Also the optical sensor has a built-in light so the lighting is always consistent.
For this game, especially while driving, all you really need is an optical. You dont need to track it you just need to know what color is facing up when your robot is on the other side of the field.
This is my current idea for it. it is small, compact, and easy to attach to any design. (all screws are implied)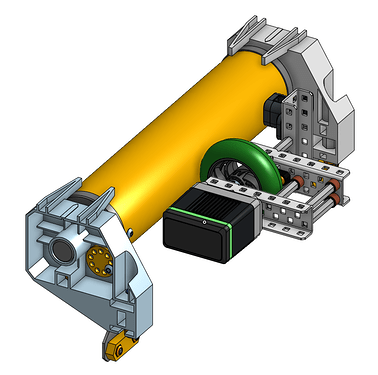 Front view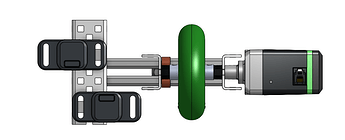 The way it works would be by rolling the roller till it senses one color on top and the other color on the bottom.
I dont think you need 2, one should be good enough to tell you which color is on top
I was gonna say that too, just the change of the color should just trigger the motor to brake hold I would think.
I wouldn't waste a motor on this, it would probably be better to connect it with a chain to the intake for the disks.
That's what I was thinking. Have a wheel positioned above the roller and a color sensor either next to it pointing down or under the roller pointing up. This wheel could also be used for helping intake discs in the Match Loader, since all the restrictions in <SG6>. But this way you could just drive up to a roller and it would automatically spin it to your color, regardless of what it was before.
I feel like it would be helpful to have the wheel placed above the roller and mounted on some sort of compliant arm that holds it down. That way you can drive up to it, the arm would move up slightly, and rubber bands would hold the arm down to apply pressure to the roller. This would be more effective than having to hold the robot's position and force it into the roller using the drive base.
Edit: I might draw this later today if I have time
Edit: here's the drawing
Uploading: IMG_20220514_130243638.jpg…
oh ok thank you I will consider adding an optical sensor
My idea is that the intake and feeding system can be different motors, and the robot can lift the intake roller using pneumatics to reach the rollers.
I'm think flex wheel. Now as for something like the shooting mechanism, I am still working that out. In my opinion flex wheels have the most grip.