yes, emphasis on bendy. When it went up, it bent over.

Not necessarily bad, as it placed second or third at state, but note that the bot does not have front wheels
Oh boy, finally a place for derp bot to shine!
Most seasons I build a bot to meet the game requirements, with some extra rules, cuz im a full grown person.
Only 269 motors, 10 max
Only steel structure, with a heavy bias to chassis or old school slides (For the record, chassis rails are very versatile.)
It had to be weird.
I had one for toss up that could high hang with a big ball… but cannot seem to find pics.
NBN


This is mid-season, but all I have. Final version was 3m holonomic base (sloooooow), 6m double flywheel, 1m intake. It was crap, but could shoot a ball in from about 5'.
SS


Some fork parts missing, but you can still see the awesome. 4m drive (cheated and used 393's for the encoder backs) and 6m 1 bar. (them 296!) It could chuck 3 stars or one cube and could high hang.
ITZ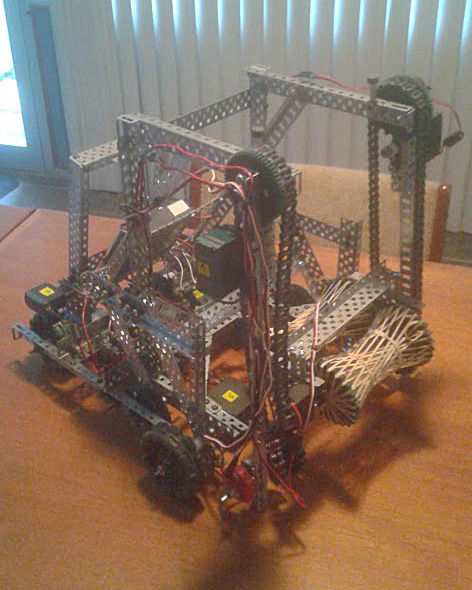 4m drive, 2m mogo lift, 1m mogo cage (in back),1m intake and that sweet sweet 2m chainbar lift. It was so silly. Every cone was dropped from the bar at max vertical. Could stack 5 though, and scored a 1 stack in auton.
TP
derp failed to show, despite the excitement of being able to step up to 393's with the advent of V5.
TT?
Not sure, but I have this notion of two trays with the intake rollers in the middle - or something equally dumb.
I present to you guys (and gals), my team's first TP robot:
Pros:
Very reliable Cap flipper.
De-score arm could extend out to just less than 36 inches, so we could *theoretically * push robots off of the platform.
Cons: 2 motor V4 drivetrain (yes you read that right, 2 motors)!
De-score arm could not de-score caps properly.
Left side of drivetrain would stall out mid-match.
Could not ascend the platforms (got a "concussion" the first time it tried).
Shooter was not completed in time for first comp. (a "pusher" instead of a "puncher"), so there is a "ramp" on the robot that serves no purpose.
Intake system is garbage, slow, and could not intake balls at all.
Just barely fit within the size limits.
I forgot to review this bot lol.
Pros
Virtually non
Cons
Non functional descoring arm
3 motor drivebase
Three wheeled tricycle bot
50% steel.
Use of flat metal pieces for structure.
rear wheel was geared differently than the front two
Non existant coding. (5 second lag for any action)
Battery dangled out the back
100% held together with keps nuts
During comp we modified it and made it even worse.
Pros of modifications
Virtually none
Cons
Axle only supported on one side
Insane sag (30 degree tilt to the left)
Flipped every match
Wrong gearing
Looked stupid
You know your robot is bad when you test auton once, it works, and tell other teams it has a 100% success rate. (Me last year !)
That's me whenever I test my bot
Test once *
Me: EUREKA
You can always but say that it almost worked.
be honest how can you even get an actual 100% sucess rate without just not having an auton
Those orange white things look like matches.
Non functional decoration
the idea was in the right place, it was supposed to have a passive intake. However, the execution was way off. The orange and white things are standoffs on rubber links with rubber bands to make it have less give.
Kind of hard to see but it's my only pic of it… anyways, first itz comp bot and VRC comp bot but the drive was literally bending inwards as we went. And the mogo intake was one bar
During my team's first season, they had an auton with a 100z success rate. The lift would lift to its max height, then the robot would rapidly speed up, thus flipping over the robot.
best auton ever psychological warfare achieved everyone should have been scared or like what in the world thus confusing them and throwing off their driving
I could put literally any one of my robots on here. But I'll spare your eyes.
Just remembered my last years robot

. It was literally held by rubber bands, rip 7517j. TRASH build quality, I literally feel ashamed of it now. Well here it is if you would like to see how bad it is: VOLUME WARNING IN THE BEGINNING!

(I'm not of 7517j anymore)
Dont spare us @Got_a_Screw_Loose everyone contributes bad robots just look at my crab/spidery modded clawbot
Just look at our robot. A 6 bar… We are changing it after this competition.