We built a free, useful, hands-free tool (located at team315.org/rankings) to assist in running VRC tournaments, meant to solve the following problems we noticed.
Rankings on tournament manager keep scrolling, making them hard to see clearly. Also, skills scores are not visible along with the rankings.
Tournaments often require separate volunteers to announce match queuing.
Elimination bracket on TM doesn't fit on one screen.
At many tournaments, it may not be feasible to connect a pit display to the tournament server, making it hard to use.
The rankings display doesn't show enough matches in advance.
The rankings display we built:
Shows all rankings and skills on a single page with no scrolling.
Automatically announces matches to be queued (as well as match scores if desired).
During eliminations, automatically switches to an elimination bracket which fits all on one screen.
Works as a separate display that doesn't need to be connected to the TM server.
Shows 10 (!) total recent match scores and matches to queue.
N.B. this is a successor to: this tool. Also, if you change the screen size, please refresh the page to maintain an optimal viewing experience.
You can configure this tool on the configuration page.
Enter the SKU (RobotEvents ID) of your tournament
Enter a division (if applicable) - most likely you can leave this blank.
Enter a refresh rate (ideally, not lower than 60 seconds).
Select whether you would like to announce match queuing and scores.
Enter the number of matches in advance to queue.
Select whether you want the elimination bracket to automatically begin showing during elims.
Configuration page: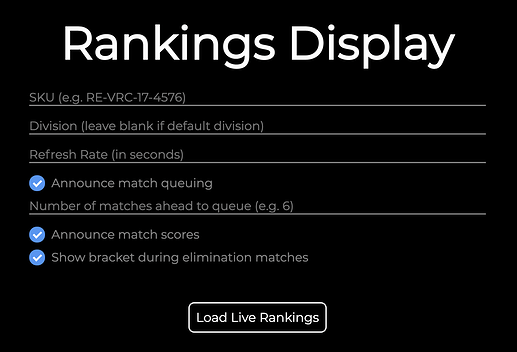 Rankings display: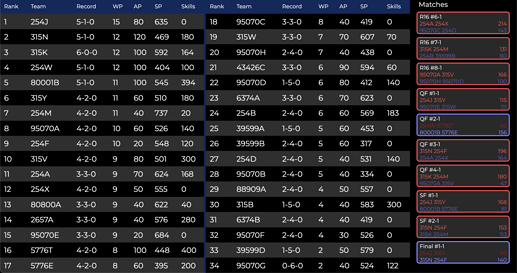 Elimination bracket display: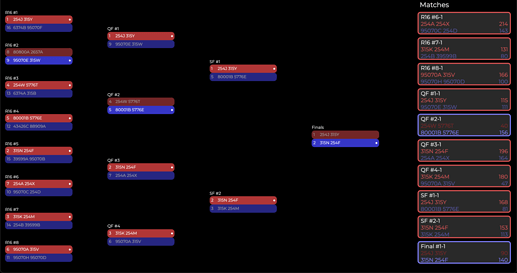 This tool is in beta until January 10th, so we expect to find a few lingering bugs until then. Please consider using this for your tournaments, and let us know what you think!
Kaushik & Nidhya, Team 315