Dear VEX Community,
The Purdue SIGBots Wiki has a new major policy change and feature to announce!
PDF and Doc Contributions:
We now allow PDFs and Word Documents to be submitted via a google form as articles to our Wiki. In the past, we've only allowed submissions via github markdown, which was a limiting factor for many people not willing to learn git or use github Markdown language.
When your google doc or PDF is submitted, our development team will then decide what to do with your document, whether that involves asking for modifications, modifying it ourselves, disapproving or approving your submission, or any other actions to maintain the quality of our Wiki.
If your article is approved, we will try our best and make sure to give your team credit. Contributing to our Wiki frequently could be a great talking point in interviews for judged awards.
Of course, all other contribution guidelines still apply. Please check out our contributing guidelines article for more details, as well as the place where a link will be hosted for the google form.
CAD File Embedding
The SIGBots Wiki now supports CAD Embedding! Check out our article on the process for both markdown and text contributors here:
https://wiki.purduesigbots.com/hardware/embed-cads-in-wiki-articles
We hope to improve the process in the future, as right now there are some issues with scaling and viewing window. This is simply because gitbook doesn't allow us to embed Fusion CADs directly so we've had to create a workaround.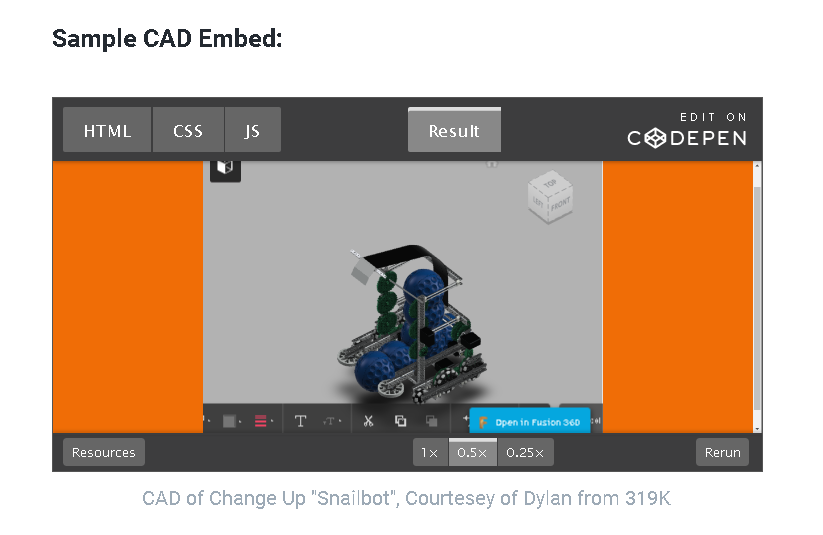 Pneumatics Article.
With pneumatics article being legal in VRC now, we've created a new article for it. Read about it here.
Other Plans and Progress
Since our last update, we've also:
Merged in a flywheel article revamp (Courtesy of team 91A)
Improved our DR4B article slightly with another picture.
Another thing to note is that the ESD Board will also be recieving a 3d Printable Case in the near future, and a seperate announcement for that too.
Thank you for your continued readership

,
The SIGBots Wiki Development Team