we want some opinions on how we should brace our forward arms for our lift we were thinking two steel bars and cutting them to size and making an angled double brace on either side
I would recommend bolting the towers directly onto the chassis itself and use other pieces for stabilization.
And also use locknuts. More security is more better
I have heard that It's overated, but triangle bracing can help a lot if you tighten the screws tightly.
You might want to also add another bar to the other side of your strafe/tracker wheel to prevent cantilevering the axle it's on.
45 degree bracing is one of your most powerful allies. From a physics stand point if you have stable 45 braces on each side of your tower, the tower will have a very small window to move around in. This can be done with c channels or standoffs. also another thing that my team uses a lot of is a c channel connected to the chassis by standoffs and then bolted to the tower. we used a lot of these in In the Zone and they worked pretty well.
You can also use 5 wide c channels. Those are pretty good for reducing twisting and wobbling in the widthwise direction.
If you really want to reduce twisting I would use an X bracing
I will garuntee you that if I used the search bar on vexforum I will find more than enough posts about bracing and build quality. I would suggest searching before posting, please!
Thanks Connor I really love it when you teach kids a lesson about the forum
Definitely not overrated. This is one of the most useful techniques in Vex.
If you are bracing the arms, do this, but it will not work for the towers
Example:

This is what you should use for the towers.
Example:

I think your best bet is to completely remove that bracket and screw that c-channel into the chassis c-c-channel with 4 screws. This would lower whatever the contraption is by a few holes but you'll want a sturdy starting point. You might also want to consider a side triangle brace.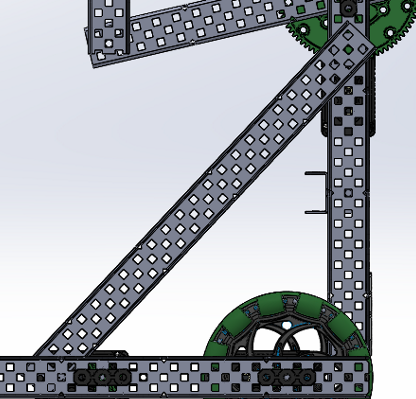 This topic was automatically closed 365 days after the last reply. New replies are no longer allowed.