Want to know whether the parts of vex can make a stable clutch structure

Vex parts are only as stable as the one who uses them
Don't think that that's what he meant.
I was thinking he wanted a clutch for shafts / drives. But then the picture of the device clutching onto the goal and I went, "OK that works".
The joys of a two word title and an additional word "stable" in the body of the message.
Kind of like posting in the title of "Holiday" when you are really looking for "What is the best gift I can get a roboteer under $25 for the Holidays.
Maybe they are looking for a clutch hitter for their spring softball league?
I got it, with the recent music thread they are looking for the best song by "Clutch" to build by?
No, no, no, it's the request for worlds, they want a small handbag to put spare parts in!! I prefer Michael Kors, they seem hold up better than Kate Spade ones.
Oh, but there are no easy answers in VEX…
@Guyishere1 That claw design is great and all, but let me point out that the non-VEX branded matting used on it would make it not pass inspection.
But it did pass inspection…
It just may not in the future, just because it did once doesn't mean it will when you have stricter inspectors some time in the future
Given @Jobe called it out, you will need to ask Official Q&A as to the legality of the material before coming to next competition. Having Q&A answer is the right way to do it. It does take time but you will not go into panic mode if inspector says you need to remove it.
Here is the VEX part -
Rules do not specify functional equivalent in different colors etc. So on first inspection, could be a fail to use alternative material.
Note, I do believe in the past season Q&A it has been permissible, but those answers do not carry forward. Moreover, a recent Q&A about pneumatic tubing of a different color was deemed illegal.
As an EP in your region, I encourage to be thorough in details to build the very best competition robots.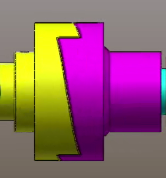 I want to know if a similar structure can be made so that the shaft and the motor can be separated.
Hi @ifeng The device you show has the purple shaft driving the yellow shaft in just one direction. Is that another feature that you want to have in addition to having the drive motor disconnect from the driven shaft?
I built a ratchet mechanism, and my school has green circular VEX clutches, probably from EDR. The ratchet that I made doesn't have a way to dis-engage itself though. Maybe you could design one by cutting a gear into a cam shaped like an oval, and then have two cam followers pushed into the cam with rubber bands.
This topic was automatically closed 365 days after the last reply. New replies are no longer allowed.