This is a place where you can share the craziest or the biggest coincidence you've had.
At TP World's, my team had a match where my alliance was my alliance at regionals and one of the opponents was one of our opponents that we competed against in regionals. Essentially a 3/4 rematch.
Just yesterday, I was at a tournament. Only 12 teams because of COVID so everyone went into elims. My alliance and I were ranked 11th and 12th because of a myriad of technical and mechanical failures as well as a really tough schedule. During lunch break we whipped up an auton that could score our preload. In the match, our auton failed and refused to move. We were up against some pretty good robots. For refrence, we had an intake bot and our alliance had a denfensive bot, and we were up agianst 2 hoodbots. We tied our first match so we played another match. One of the opposing alliances continually rammed and and got entangled while we were going to the center goal. We couldn't move for the next minute. I believe the call should have been a DQ and it would have been had it not been for the next 10 minutes of bickering between the judges and that team and it was called as a replay. Next match, we lost 18-3. Throughout that, our auton failed every single time.
Our school has 4 teams. Well, one tournament, that all the teams went to, It was 2 of us against the other 2. So a match with all four teams from our school.
At Grandville #2, we won finals in the last half second by shooting a ball into the middle goal. We shot just as time ended and the ball rolled around the edge of the goal and fell in.
Edit: Here's the link if you want to watch it. (I'm aware that our robot was pretty bad)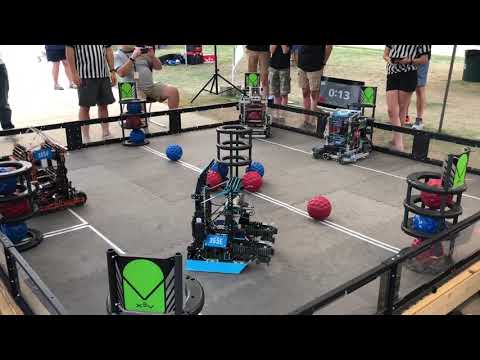 This happened to our team in the 2019 FRC season. To give some background, our team (973) had gone against 254, another outstanding team, on Einstein (Einstein = FRC version of freedom hall) earlier that year. At this offseason event, many teams bring multiple robots so as to train more kids for the upcoming season. Well someone thought it would be a good idea to have a rematch, and so two 973 robots were put against an alliance with two 254 robots. It was an awesome match, and not one I will forget anytime soon, and it was more of a crazy match than a coincidence.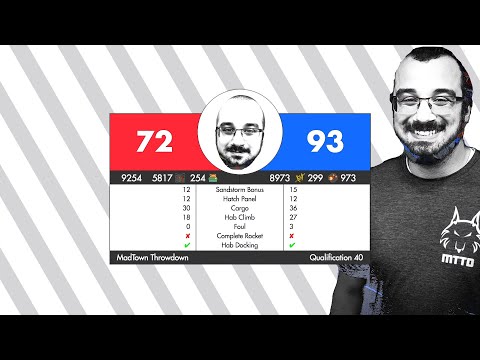 Today, we went to our first in-person tournament. It went great!!! We were able to take home robot skills champion, excellence, and tournament champion with our sister team! These were the exact same awards we won and sister team we won with last year at the same tournament!
At the Asia championships last year my team qualified for finals in the lower bracket. In our second finals match we were up against a really strong alliance, one which was very likely to take the tournament champion. In our match we had connection issues but it was not really match affecting but the referee who just happened to be the coach of the opposite team, called for a rematch, most likely to avoid suspicion of conveniencing his own team. IMO it would've been fair not to call a rematch, but that was what happened. So in the rematch we won by 2 points. I can't help but feel sorry for them lol
We eventually made it to the final match, which was a best of 3. We won the 1st match and the 2nd was going smoothly until our alliance partner knocked the over stacks in the big zone when scoring the second stack. In the third match, we tried to keep our cool. The opposite alliance had one robot pretty much disabled. Against all odds that one single robot scored 3 full size stacks on its own and won against us. That guy was driving like a madman. However since my team had already qualified for worlds (we all know how that went) by then we weren't too upset. Could've helped our partner qualify though.
I had a match where the tournament organizers didn't bolt the towers in all the way and they came out during a match when I went to tower a cube.
This is a match where it happened pretty badly, but it also happened in other matches. In FRC 2019, the hatch panel loaders were notoriously known for their ineffectiveness. They would often drop the hatch panels right when they were loaded instead of letting go of them when the robot grabbed them. What happened in this match to an unfortunate team 254 is only one example of what happened many times throughout the season (watch the bottom left corner hatch panel loader). The hatch panel loader just kept dropping the hatches so there was a pile of them on the floor. This was an unfortunate defect of the hatch panel loaders. The human players almost never run out of hatch panels, but in this match, the HP had to run all the way to the other side to get more hatch panels until he just gave up on them and left the loader without a panel.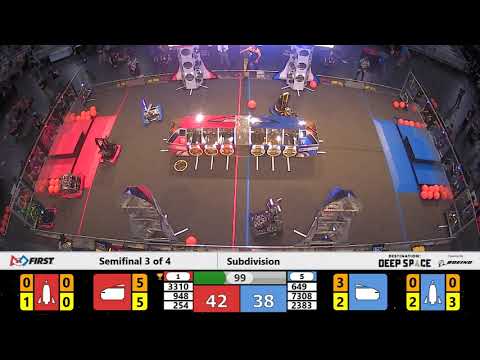 It was really scary for me because I still didn't think we won until the score was announced. I didn't think it was possible to win a match against 323V and 41091A since they're both so good in Indiana. I kinda was braindead at that point of the competition and didn't bother to score it myself.
On my teams first tournament for the season we had a match were neither team managed to score anything in the goals.
I had a match where 2 starter team crunch-bots completely dominated 2 dunk-bots 87-13. ( I was a crunch-bot!)
Don't have a video right now, but In the TN crunchbot tourney, our sister team was in a match where all four robots tipped over.