Anyone aware of any Cyber Monday deals from Vex? Looking to buy an IQ field.
Not from VEX (I don't believe they ever have deals, outside of the savings from buying a superkit vs. individual parts), but robosource.net is having a cyber-monday sale. Here's their notice that I got in my email: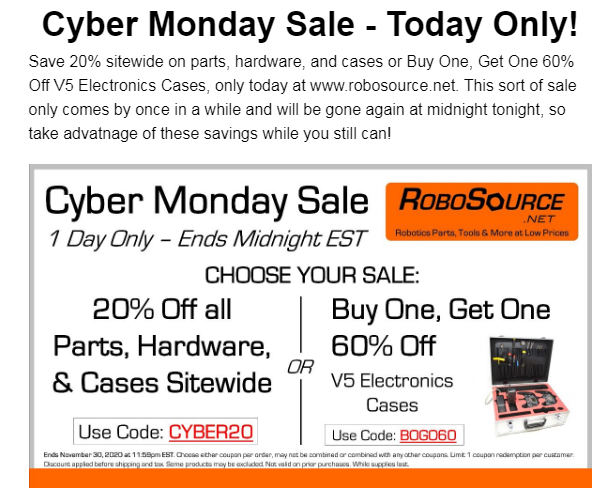 Sigh, i just bought $500 worth of hardware last week from them to replace all the screws on 14 teams with the new star screws…
This is why you don't buy stuff the month before black friday
The week* that one's gotta hurt
I did sort of the same thing (not quite to your scale. Hopefully they run the same sale next year…I'll hold off buying all my "replacement" screws (and a whole bunch of standoffs) until black friday next year…
but I will get one more order in today, though. Their shoulder screws in all sizes are really cool.
Those shoulder screws are lifesavers, they help in so many different ways.
Did you get their standard packs of screws? I am thinking of putting order in have ability to get gear out to our teams without having to touch anything (or sort!!!)
Thoughts on ideal configuration of fasteners.
I buy the assortments. Each size is individually packaged, and complete with nuts and washsers. Plain heads for the regular screws, color coded for the shoulder screws, so the teams can tell them apart. (Also, when we get V5 superkits from VEX, they come with "plain" screws, so this system helps keep them straight).
Also, I never sort screws (I have better things to do with my time): teams are not allowed to return any screws to the "master screw supply bins" so all I do is keep the bins filled. Teams organize their stuff however works for each of them.
problem is no one outside of me has access to workshop for now…
so I rather buy a boxed solution per team and deploy that way.
so favorite assortment configuration you recommend?
I really like the colored screws. It makes it super easy both to sort the screws, as well as communicate. instead of asking a teammate "can you pass me the 3/4" screw" or "can you pass me that shortish medium screw" you can ask "can you pass me the red screws?".
also they have a nice aesthetic, the paint job is high quality and does not easily wear off, the screws are high quality and do not strip, and the price is good.
my team uses a few organized toolboxes, one for nuts and screws, where we do sort and organize between keps nuts, nylocks (the thin nylocks from robosource are also great btw), and the different colored screws. And another toolbox for spacers (again, robosource's spacers are fantastic) sorted by length, bearings, shafts and shaft collars, and other various small bits. Then we have a large rolling box with unfoldable compartments where we sort out the gears, sprockets, metal, and all the larger pieces. There's also room to put the toolboxes inside the rolling case which is nice. It's also very convenient to move the whole setup, because we're pretty much competition packed all the time.
Since the nuts and washers will transfer, I just bought the screws. Each team gets 100 of the 0.375 and 0.500" screws. These are the workhorses of building because they hold either 2 or 3 pieces of metal. They then get a smaller count of the rest of the sizes. Shoulder screws will be in a central place so they can grab them as needed. I did buy some of the thin nylocks to try out.
I bought the color head ones to 1) make it easier for me to get back all the hex screws, since they are only one color and 2) to help our parent / mentors with sizing. I can teach to have them look at builds and ask "Hey, you are using that black, 2" screw to hold 2 pieces of metal together, why is that. ( This is also why I was on the hunt for the CAD drawing that someone had made of the popular connections (2 pieces of metal) and the screw (0.375) that gets used to hold them together. I was going to try to color code it to make it easier for teams to get the right sized screws.
Each team has one of those 24 compartment boxes from Harbor Freight (and I do use the HF sales on these) for $2.99 That holds a complete set of screws and nuts.
@Sylvie – screws are a commodity item, never really figured there would be a Black Friday sale. Remember, I've been buying VEX parts for years, neither they or Fastenal have sales like this .
@Golf, yea, it does sting. but I'll give a shout out to Robosource, they have been sending free sticker sets (for ports) for all my teams to my events, so I'm not too upset.
There are many variations of the drawer units (just poke around on the zoro catalog) including some that are fully adjustable. I have one that has six wide compartments, for example, which I keep our supply of regular and HS shafts.