Here's something we've been playing with in our event livestreams over the last few weeks – a display to show some additional info before each match starts: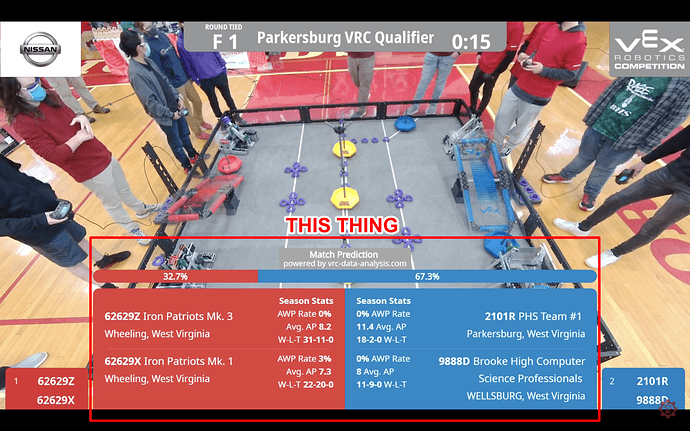 The original goal was just to show the name and location of each team before the match started, as TM will show this info on the non-overlay match intro but won't show it if you're using the overlay display. But after a few weeks' worth of feature creep, it now does some additional stuff:
Optionally show some season-long team stats, which are pulled from the RobotEvents API and updated every few minutes.
Optionally hide the country from each team's location (to save space, since at most events all teams are from the same country)
For VRC events only, optionally show the predicted match outcome as forecast by vrc-data-analysis.com.
VIQC, VEX U, and RADC events are also supported, here are some screenshots of what those look like:
More screenshots
The display itself is just a web page, loaded as a "browser source" in OBS. There is a small companion app which interfaces with TM and tells the display when a match is started or queued. The display will hide itself when a match is started and reappear when the next match is queued, so the whole thing works pretty seamlessly.
More info and download here:
Thanks also to @Mentor_355v for making the match predictions easy to get programmatically, and offering some useful feedback on earlier prototypes.