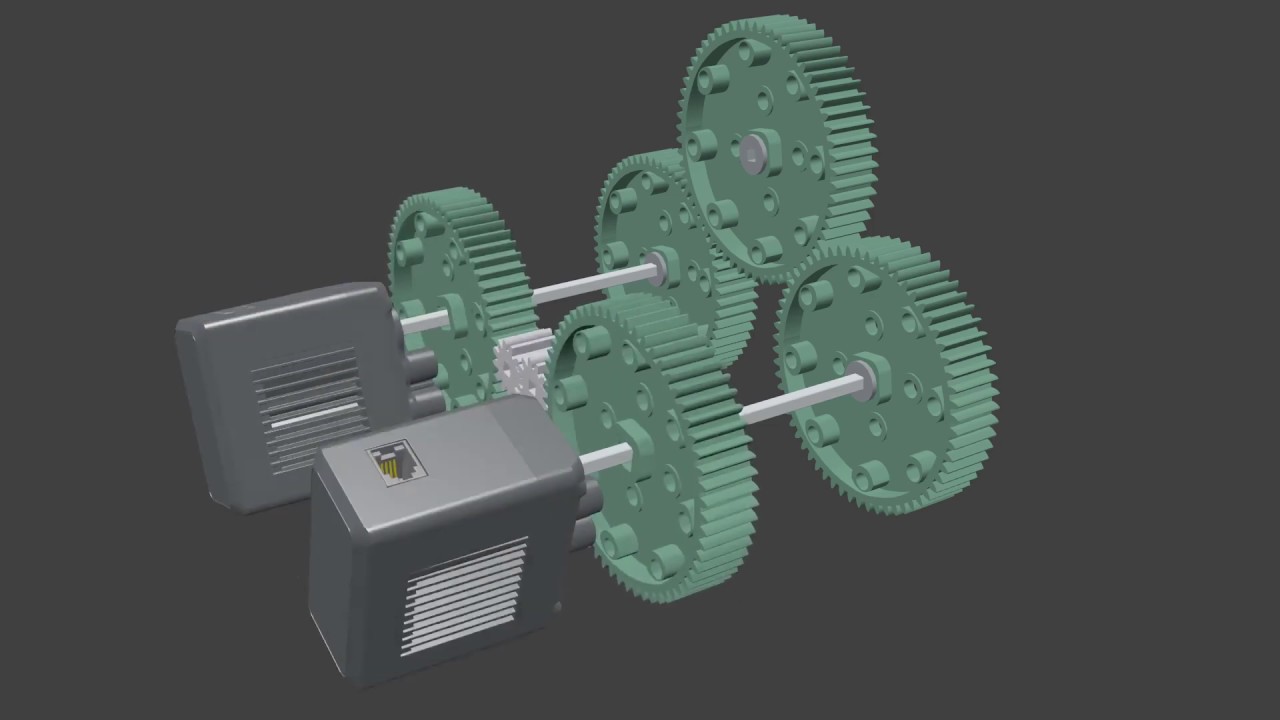 In mechanical engineering Differential is primarily associated with a specific drivetrain component connecting axles of the powered left and right side wheels. But formally it is defined as:
A differential is a gear train with three shafts that has the property that the rotational speed of one shaft is the average of the speeds of the others, or a fixed multiple of that average.
For whatever reason, in vex context, any power sharing scheme between multiple motors is called differential as long as inputs and outputs obey the basic formula a=x+y and b=x-y where (x,y) are inputs and (a,b) are outputs. For example: Differential transmission - Mobile Goal to Drivetrain (DMD)
Video linked above shows two common types of the differentials used by a number of teams over the last few seasons.
The trick is to build it without prohibitively high friction losses. Few of them are described here: Special partially threaded screw joints and HS gear bearings using modified 393 output gears
Below are the pictures of the differential prototype that uses drilled out 393 output motor gears as the coaxial bearings:
This allows the main axles going out from the motors to avoid the load of supporting the 60T gears to which the motors are attached themselves. Also, for stability you need to connect those gears on the left and right drivetrain sides: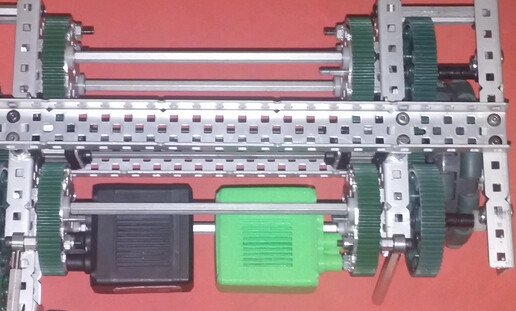 Another important thing to consider when building differential is if you need to power both outputs at the same time. They can run independently and simultaneously but only at the reduced power. You get the best efficiency only if power is going to one output at a time.

(short demo illustrating the above design: VEX ITZ MoGo lift & drivetrain motor sharing - YouTube)
Let say you have 4 motors in differential setup (2 per drive side). When you run only one function then you get full power of those 4 motors for each function independently (100%) efficiency.
If you try to run both functions at the same time, then the sum of velocities is capped at 100% and the sum of forces is capped at 100% too. In the worst case (when half of the motors hold 0 rpm) each function gets only 50% of max force (torque) at 50% of max speed, thus resulting in 25% of max power for each of the functions or 50% overall efficiency.
If your game strategy calls for both functions to be used simultaneously most of the time, then differential is a bad option, but if those functions are mostly exclusive, then differential makes a lot of sense.
Peak power is another consideration. It may be ok to sacrifice overall efficiency of the system, to get peak pushing power of the chassis when the lift is not active. For example, if you have 6 motor drivetrain with 4 motors shared with the lift, then you get effective power of 1 motor lift and 1+2=3 motor drivetrain if you use them simultaneously. But if you use them only one at a time, then you get either 4 motor lifting power or 6 motor drivetrain.
This all assumes that you don't lose too much to friction in the more complex geartrain.