So, this is our first year using pneumatics and our second year using block coding for our autonomous. What we want to happen when we start the program is that the desired piston remains extended. We are facing an issue where when we run the code, it immediately retracts then re-extends in a split second, wasting a lot of pressure.
I'm not sure exactly what might be causing this, but here is the start of our code (I figured putting a block setting the piston to extend at the beginning of the code would ensure that it starts extended).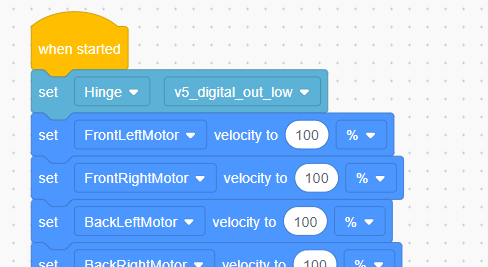 Another issue is that when we stop the program, regardless of the position the pistons are in (we have two), they move to the opposite position, again wasting more air before the competition. However, when I turn the robot off completely, they move back to their former position (where we want them). When I turn the robot back on, nothing happens, as expected. If anybody can help me out with this problem it would be it greatly appreciated.