That's facts
20 characters
So here is a question.
I am an IQ boi, and I have access to parts to build a full robot. Should I try making something in CAD beforehand?
yeah you guys bring up very good points about it being the early season and the good investment it will be down the road. I was just dreading having to put in every screw but I'll take Xenon27's advice and not do that lol
I would say for every one you should at least make a quick cad before building. This will save a lot of time. While if you go strait to building you might have an idea in your head but your are kind of just winging it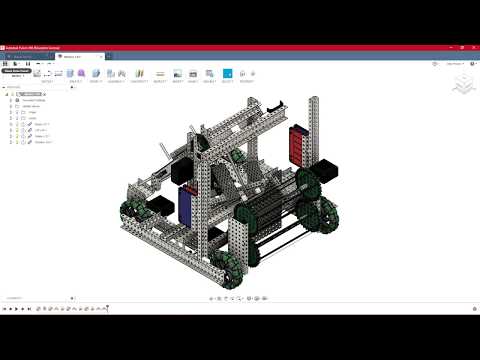 If you're gonna use fusion 360, here's a really good introduction on how to start. It's a lengthy video but it's a good way to start for beginners.
thanks for all the help guys. I was close to not posting on the forum because I had a lot of questions and didn't really know how to address them, and I didn't even know if I would get help. But the conversation both evolved to address many of the problems I didn't know how to ask about, and you guys quickly responded for which I am very grateful for.
Yeh do not do that. Of course you might want to put spacer, axles, standoffs, and bearings just to make sure you will have good spacing but otherwise if you don't feel it is nesassary then don't do it
lol I agree! Ive been winging it for so long now and im tired of it lol
Totally man. The forum can seem daunting at the start, but everyone here is like really helpful. I have seen a drastic improvement in my VEX all-around epicness since I've discovered the forum.
Ah I'm not here to judge. I have done it for my past two years of robotics. But now I am Always going to make a cad because there is so many benifits.
Now here is another totally different question:
Does anyone know of a CAD library for IQ parts that will work for like Fusion 360 and other big CAD softwares? Or should I just use Robot Mesh Studio even though it doesn't have everything that I would need.
Yeah, don't be afraid to post in the future ever if you have any more questions. Most of the people here are a great help. I started off by mostly reading because I was afraid to post anything, even responses. But the forum is a resource I'm always going to have an appreciation for because it's helped me become better at VEX.
Most forum users would say use the search bar first though lol.
I never did iq, so I don't know how important CAD is but I imagine it's very helpful, especially with the design constraints in iq, like no cutting and all that.
that's what we're here for, glad we could help. This is the first thread that's gone off topic in a good way I've seen.
I don't know of any cad library for iq but I bet you could figure it out. And for robot mesh. I used it for before I made a cad in inventor because I thought you had to buy inventor. I would say robot mesh is okay but not the best because it doesn't include the game pieces for that season and also has a lot of missing parts. This led to when doing it in inventor there was a lot of things I had to fix because it was so off.
Well, I agree with that to an extent but I would still encourage asking questions as someone will answer the question eventually, even if it's just linking you to another post.
Yeah, but there is (almost) always that passive-aggressive "use the search bar, it is a powerful tool" kind of thing.
But thats just my opinion
Well I suggest if you really want to use inventor or something than create a topic for it because it will save time looking through a lot of post just trying to find a simple thing. The least you could get out of it is someone saying use the search bar and then them linking a cad file to use.
ight thanks guys, Im currently downloading fusion 360 and starting my journey of mastering the software