Very nice. Does the code turn the wheels at different speeds during a turn.
Thanks, I was thinking about the steering depending on the speed but the speed is not so high that would add this feature, I have limited motor movement during the forward stroke, and a little less in the rear, as well realized a return wheel to the center (and do not use the function hold) because they do not know about it)) but the original problem I have not decided I wanted to create a drifting moto and turned fast. I add a couple of motors for traction, the other options I do not see to make it drift, tried various schemes of gears, but without a results, or do not have enough power to start motors or speed is very low.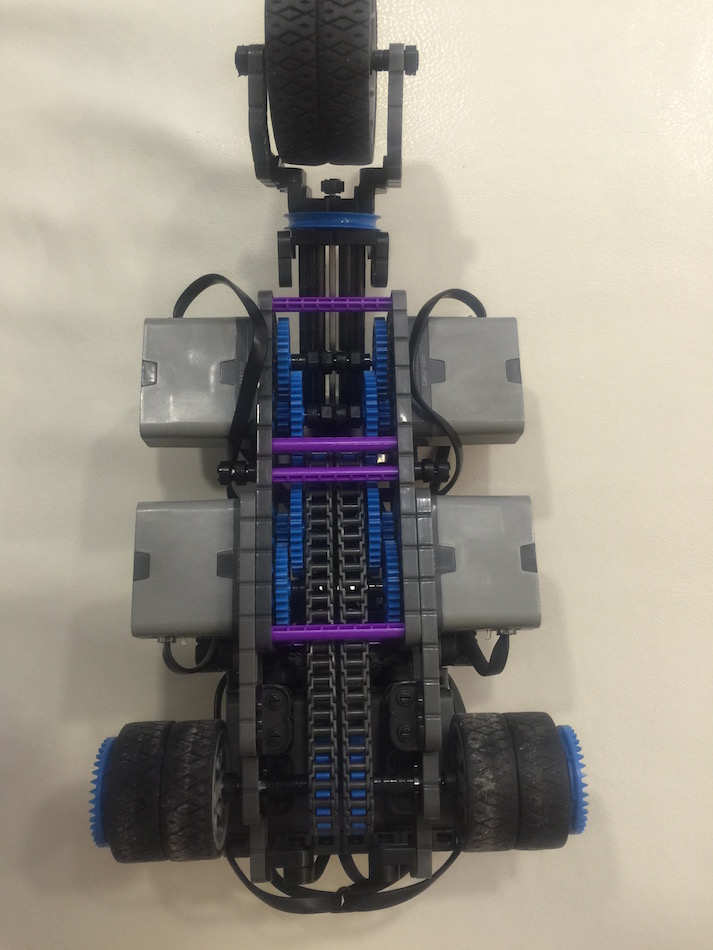 Just thinking…
Yes, Apalrd has some great posts. Differentials would be a good solution. It would require a larger bot and a more complex drive system, but you can definitely combine motor power and generate more speed using differentials. I posted some photos of a build like this recently in the post below. Look at the third picture for an example.:
http://www.vexiqforum.com/forum/main-category/vex-iq-product-discussion/14655-differential-bevel-gear-pack
Great build. I might try to build something like this after our classroom challenge is finished.
Looks like you added some more support to cover the brain. Looks nice. I am curious to see what you will build next!
Also, wanted to tell you that I started building a new chassis for the Peterbilt 379 because you asked about it. Pretty busy with other things right now, and I want to make some design changes, so it might take a while to finish. I will post some photos for you when I finish the new drive system.
As promised, a few sample drive systems.
Both have power only to the inside wheels. The outer wheels are free-spinning to make it easier for the bot to turn.
The 2-axle version also uses gears that are free-spinning. This lets two sets of wheels coast at all times. (I was designing it to match a particular drive system, so it delivers power to only two sets of opposite wheels.) I rarely post video, but I'll add a short video of this one soon to clarify the gearing.
The 3-axle delivers power to all six sets with differentials to split power left and right. It's movement is pretty smooth, so it operates well with only a single motor. (To test it, I put my marble bot on top - see entry in the showcase - and ran a cable from that brain to a single motor mounted under the chassis. Even with the weight of the other bot on top (1.548 kg), it accelerated almost immediately to full speed. For this build, I think the length of the gear train is actually an advantage because the brief pause as each new gear is engaged keeps the motor from being initially overloaded.


Here is a link to a short video showing the gearing of the original peterbilt drive in action.
Thanks for the "like", Valeria


Looking forward to your next post!