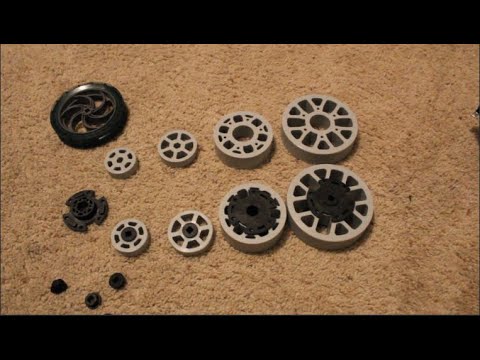 The VEXpro Flex Wheels were just made legal for use in VRC, so I thought I'd take a look at them to see what they're like. These are the 30A wheels, I don't have any of the 40A or 60A ones currently. I don't expect 40A or 60A wheels to be much use to anybody in VRC.
TL; DW:
1.625 - Too small for anything useful.
2 - Good for lots of stuff, will probably be used a lot.
3 - Versahub means that there is almost no flex left in the wheel.
4 - Big, nice, and expensive.
Versahub - Standoffs unneeded, but still large and bulky.
Adapters - Surprisingly heavy, also quite large
If you want to see some more of what they're like, just buy some, they're not too expensive in the smaller sizes. I recommend the 2 and 4-inch wheels. Get like 8 or more 2-inch wheels, and 2 or more 4-inch ones. For this season, don't order more than 2 of the 3-inch flex wheels unless you know what you're doing with them.