is it possible to make a custom hinge?
Its probably possible. Depends on the purpose. Do you need something like a vex hinge? The other type of hinge is just a screw joint between 2 C-channels.
These have always been useful:
My team created their own hinges for our tray
oh wait… I think it was a hinge locking mechanism
our team is making a double reverse four bar with a clamp. the problem is, we want our clamp to unfold so it can pick up 5 cubes. we are using two 20 long L channels and we could use one of the hinges with rubber bands but the hinges are 5 holes long and the L channel is 2 holes wide.
That idea is good the only problem with it would be the spacing between would not be enough to fold them next to each other.
I'm not sure what you mean by this. Could you send a photo, because I think that would go a long way towards solving this.
I can send my hinges that are used for a design very similar to yours, wait an hour and I'll send them over.
@enothecool, @7035 is attempting to make an expanding claw (like our bot) that folds out to reach a capacity of 5 cubes.
kind of, but with extra lengths to the claw that fold out when the match starts.
@7035, I believe this is what you are looking for:
It uses screw joints for smooth movement. If you are still having issues, message me with some photos and I can try and help you out.
How do you get the two c-channels to align when the claw fully extends? And how do the polycarbonate pieces at the top of your robot fold out?
I'm trying to build something similar to your robot, but the claw folds out from the inside.
You can cut the Vex hinges, but the pin sometimes falls out, so you need multiple hinges to test.
Ah I see what you mean, like the thunder Jeep
I'm part of thunder jeep lol
you can use aluminum plates to extend the claw to the side to make it fold more easily and use screw joints
When we built our hinge, we were able to screw in like a 1-hole-long c channel that makes the whole thing flush when fully deployed as the top fold out hits that small piece. The same thing can also be achieved by making the channel one hole offset, saving the trouble of adding that small piece near such a crowded joint space. For the polycarbonate pieces, we used screw joints again to fold them like this: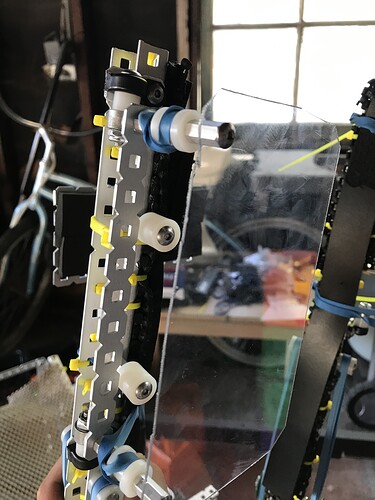 We are actually trying to build a better intake that folds from the inside out as well (better compression and no worries of them bending and the cubes falling out), let me know how it works out for you guys.