Humans are better then robots video coming soon😁
??? Humans aren't exactly "VEX legal" ???
can u do one for battle bots pls more specifically i want a guy with a chainsaw running at a guy with a portable bandsaw
A human would definitely be more effective playing vrc games than robots.
i'm pretty sure i can slap flags faster than your robot can shoot balls
Yeah but how you gonna meet the vertical and horizontal expansion limits?
If we're talking about without rules then yeah obviously humans are better
Lmao no way you compress that much and still move
just stay in fetal position and jump it's ok
huh. I'd love to see a vid if anyone's up for the challenge
I almost forgot, it's Ethan.
Anyways, can you guys spin at 500 rpm regardless?
I beg to differ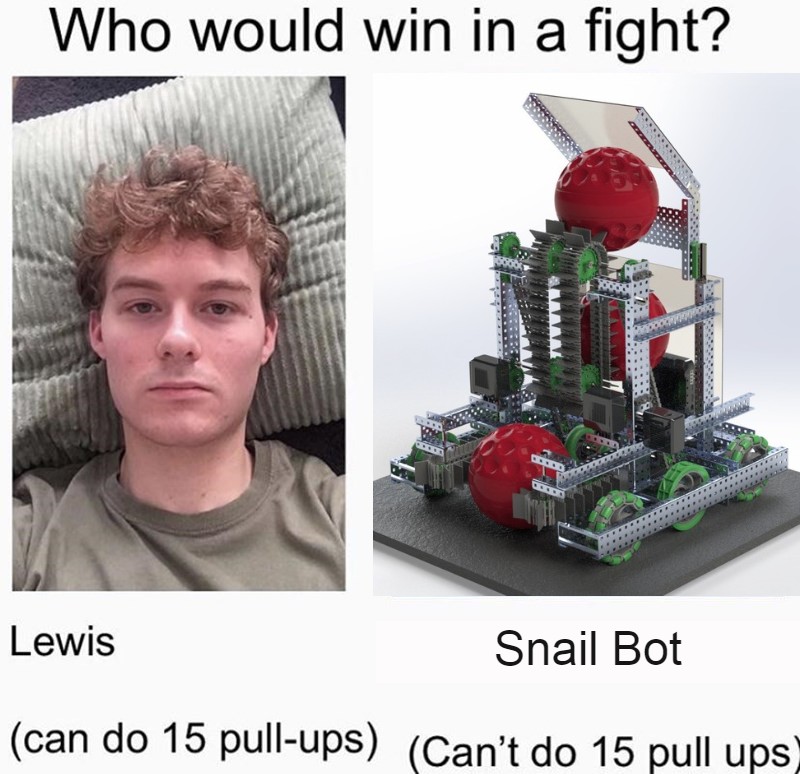 you can say that again
Script?
All 4 COMPETITORS are curled up in fetal positions within the home zones. A young REF stands to the side, striped shirt glowing softly in the artificial basement light.
REF: Ready?
The COMPETITORS give thumbs-up signs to the REF.
REF: Okay, go!
COMPETITOR 1 uncurls and jumps up as COMPETITOR 2 rolls to the side and grips a ball. COMPETITOR 3 jumps over COMPETITOR 4 and slam-dunks the middle goal as COMPETITOR 4 begins removing all the blue balls from the field. They score frantically, shoving into each other and descoring from the top of the goals. Balls are flying, goals are being constantly slammed against, and the REF can barely keep up. After a flurry of movement, the match is over.
REF, who displays an expression of aghast shock: You're all disqualified. All of you.
This discussion came up among my teammates last year; I'm 90% sure I would lose to my own robot in Tower Takeover because having a tray and intakes is so much more effective than manually stacking cubes, even as a human! I even tried it; It took my robot 12.6 seconds to pick up 10 cubes in random spots and stack them, while it took me at least 15 seconds . I don't know if you could beat a human in change up, though, I bet even at the highest levels.
That was fun to watch. Now you can see me watching