HAHA Bendy Drive go brrrrrrrrrrrrrrrrrrr.
But seriously, this is the most memetastic drive I have ever seen!
Hahahahaha​:joy:









Yes indeed. I'm not sue what I'm supposed to use it for tho.
Fun!
definitely wouldn't be an x-drive though. lol.
Its official, next person that unironically calls an x-drive a bendy drive is having this linked by me! I love it.
Its the drive we deserve, but not the one we need

I happened to get this scratch when this robot snapped closed on my hand. Bendy drives are dangerous!
the bendy drive has struck back!
Very cool, I like the inchworm effect. How does it do on turns?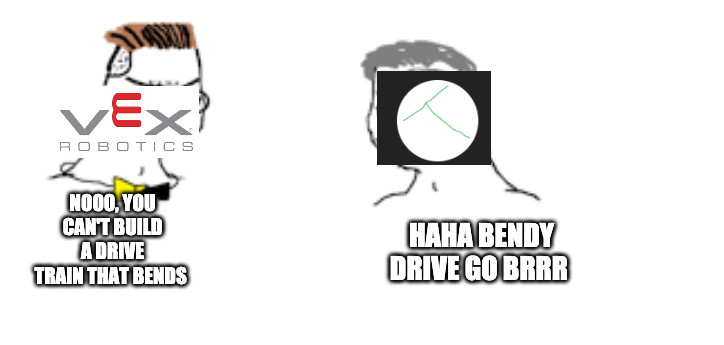 inspired by Noah10851b
Thanks, I only watched as far as it leaping off of the step.
So based on the last 5 seconds, it has about a 5' turning radius? Good thing the field is 12' across.

I DARE you to bring this to a random comp. Judges award here you come!
It has way less than a 5' turning radius
Lol. So are you just trying things lately? I mean, you did the L-drive, then this one…
I posted this before the L-drive…