in SG8, it says


and in the definition of alliance station, it says
and in a competition using this alliance station set up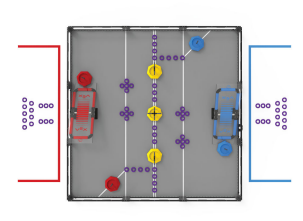 here is question #1, my auton requires placing some match load rings, it is nearly impossible to stay in the alliance station when placing the rings near the corner, is it legal to briefly leave the alliance station to place match loads? or will the success of my auton depend on which alliance station is being used?
the definition of alliance station would say that leaving would be illegal, but then what counts as leaving? if you keep one foot in the alliance station, is it legal? and SG8 says that rings can be placed in those tiles, so there must be a way to place them legally.
SG8



question #2, is it legal to use a mechanism to release match load rings on the field? we made a way to place 4 match load rings on the field at the same time (and legally placed) by squeezing the handle. nothing in the rules says that match load rings must be set down by a drive team member/ without the help of a mechanism, so does that mean that this is legal?
(edit: if anyone who has access to post in the Q&A could post this, that would be very helpful)