I want to disable "hold" mode on motors, but what i used didnt work.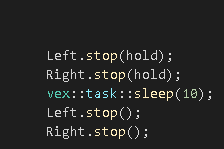 What I would recommend would be saying something like this:
Left.stop(hold);
Right.stop(hold);
vex::task::sleep(10);
Left.stop(coast);
Right.stop(coast);

When you do not specify a brakemode, it uses the last one it was given. You need to include coast in the parentheses if you do not want holding to occur.
You need to tell it to braketype coast.
Right.stop(coast);
If that does not work you might need to us an if else statement, that is if it is driver controle and not antonimos.
This topic was automatically closed 365 days after the last reply. New replies are no longer allowed.