Hello VEX EDR teams,
This is post is specifically meant for all the teams using Simulink in the VEX competition to program their robots.
If you are already working with Simulink, you might have noticed an issue with the Arcade Module block in VEX Simulink library. We have a fix for the issue and we are currently adding the fix to the official library, however it will not be available until October 12th 2017. Thus, I am submitting the fixed block here in this post as an attachment.
Please download the attachment ZIP file that contains the fixed Arcade Module block.
Use this block in your own Simulink models and let us know if the fix resolved the issue.
NOTE: This block is now fixed to work as expected on the real robot. Do NOT use this block with the Field Simulator block this year, since we are still trying to fix the simulator block to function correctly with the Arcade module block. Sorry for the inconvenience. Our development team plans to fix the Field Simulator block issue with Arcade Module block in the next release.
Do feel free to share this fix with other teams who might be running into this problem (Yes, helping other teams is great sportsperson spirit!).
If you have questions or concerns with this fix, please post here or email the support team at bestrobotics@mathworks.com
Let us know if this fix helped you or not. Please comment.
Thanks and all the BEST!
MathWorks
(makers of MATLAB and Simulink)
Attached Simulink model's screenshot: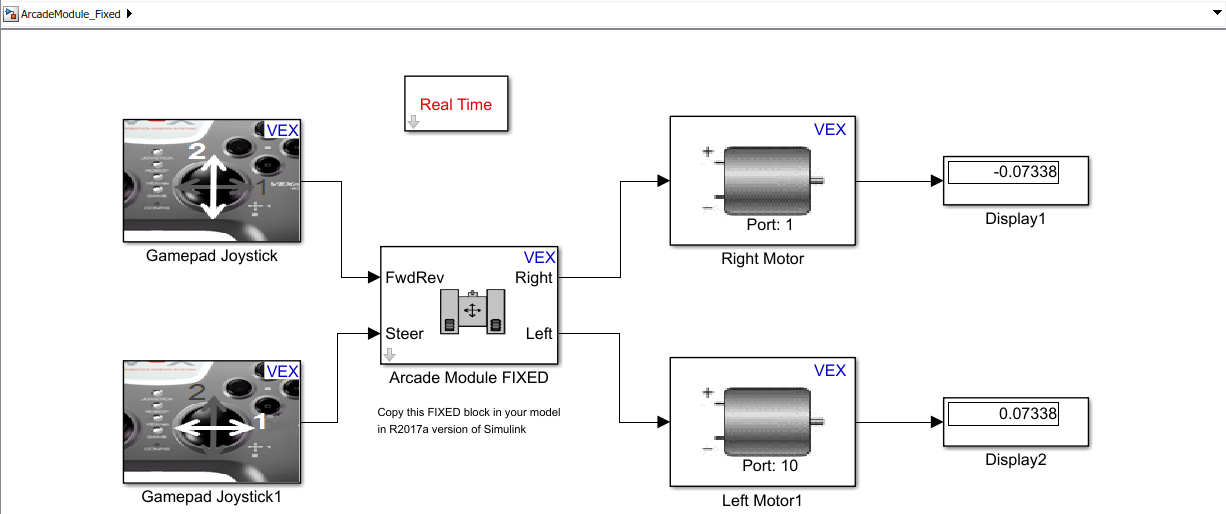 ArcadeModule_Fixed.zip (34 KB)