10 inches wide, 8 long
This isn't strictly VEX related, but I think there's a number of people here who could help with this.
I'm working on an animation project with Blender, and I need some help with a formula.
I have a tank drive, with an all omni-wheel chassis (so point turns). It is 10 inches wide (from center of left wheel to center of right wheel), and 8 inches long.
Blender has a drivers feature, which allows you to drive the location/rotation/scale of any object from the location/rotation/scale of another. I need to drive the rotation of the wheels according to the position and rotation of the chassis. The way it works is, there's box for the formula that drives the driven object and boxes to declare variables from driver objects.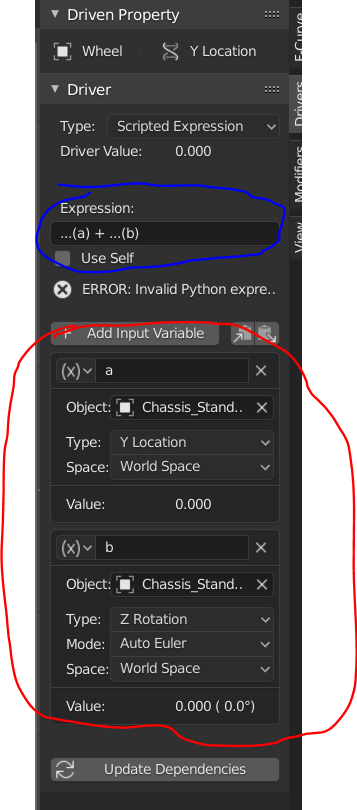 It is very easy to drive the wheels for when the chassis moves forward/backward, but I need help on the rotation part. With a 10 inch wide wheelbase, what formula would I need to use to drive the wheels with the chassis when it turns and moves forwards. I know not many people here use Blender, but that shouldn't matter. It's much more of a math problem.
I need a formula to describe wheel rotation when given input values from both the position forwards and rotation
I would appreciate any help that anyone could offer.