I know what the explanation is, so I'm not looking for an explanation.
I'm just relating our personal experience at Elementary Worlds this year.
My (American) family and friends were deeply troubled when we heard "Chinese Taipei" announced in the Parade of Nations. We were initially confused (what strange country is this?), and then based on the silhouette of the country shown, we realized that they must be talking about Taiwan. None of us had ever heard of Chinese Taipei before. I'm sure most people in the audience had no idea that these people in the parade were actually from the country that we all call Taiwan. The flag that they were forced to wave was not a Taiwanese flag, but an unfamiliar one that (strangely) had Olympic rings on it.
I looked this up online after the ceremony, and I read all about the controversy-filled history of the term "Chinese Taipei," including the fact that this name is "viewed as anachronistic, aggravating, or even a humiliating and shameful symbol by many Taiwanese."
I asked my Taiwanese-American friend about this, and he said that the name was hurtful, and that his parents were really upset by it. His 9-year-old daughter (second generation Taiwanese-American) was mortified every time she heard Chinese Taipei announced during the qualifying matches. She kept turning around in exasperation and whispering, "Why do they keep calling it that? It's called Taiwan!"
I also noticed that all of these teams had the word "Taiwan" on their team shirts and uniforms.
Finally, after the division finals, I saw a large Taiwanese team assembling for a group photo a the Red/Blue Lighted Vex Worlds Archway. They were holding up a large Taiwanese flag (the real one, not the unfamiliar Olympic one), and they told me that their flag was "banned" during the competition itself, but now that the competition was over, they could display their flag openly. I asked them about the name Chinese Taipei, and they were overjoyed that someone cared about the troubles they were facing at Worlds.
Doing a bit more research, I discovered that last year at Middle School Worlds, the name "Taiwan" was used by one of the finals announcers… maybe by accident, or maybe intentionally as a subtle rebellion: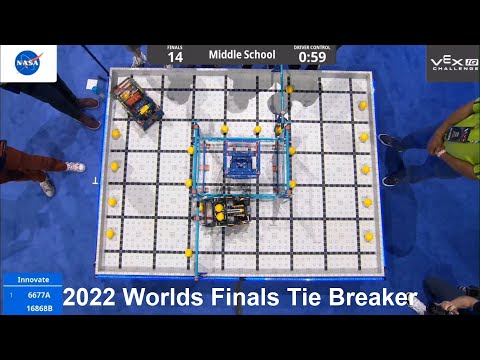 But I also noticed that on the Finals leaderboard, everyone had flags shown except for Taiwanese teams, which were left blank with no flag: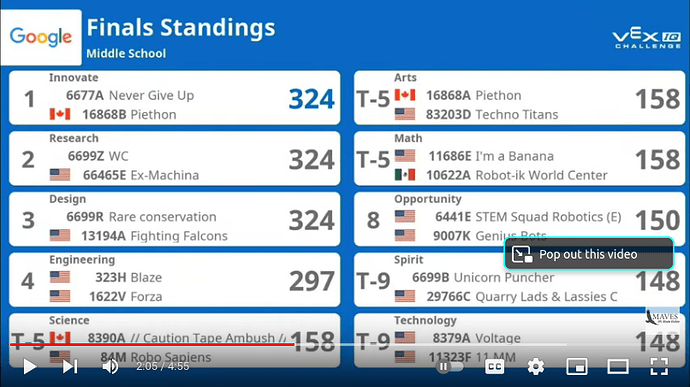 And then for the Elementary competition last year, the Olympic flag was used (instead of blank):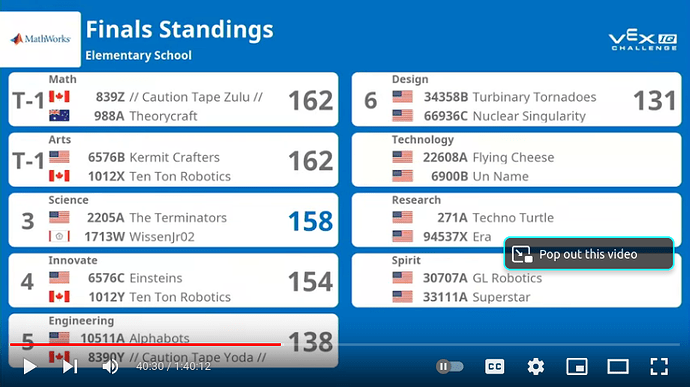 And the Elementary announcer called that one team Chinese Taipei.
Like I said, I know the explanation.
But I'm reporting that many people are troubled by this disrespectful behavior on the part of REC and VEX.
Call people what they themselves want to be called. Show the flag that they themselves want to show.
I can't imagine that any Chinese families or students would be offended or hurt by the name "Taiwan" or the display of the Taiwanese flag. But I have first-hand experience with Taiwanese families and students being offended and hurt by the name Chinese Taipei and by being forbidden from displaying their flag. I know that Chinese politicians would be upset by this. But this is not an event for politicians. It's an event for students and families.