I'm super excited to announce the next generation of the VEX Robotics Competition Field Perimeter, aptly named, the Portable Competition Field.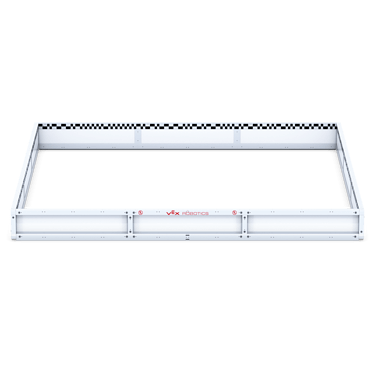 We took the existing Field Perimeter that you've all known and used for years, and redesigned it from the ground-up. Some notable improvements include:
A simplified, snap-together design. A single person can construct the entire field in about 15 minutes
PVC Wall extrusions. Totaling at about 90lbs, the Portable Field is significantly lighter than the original field
GPS Field code printed directly onto the wall extrusions to outfit your field with VEX GPS
Included carrying cases to transport the Field Perimeter and Tiles (still sold separately)
No need to worry for you Event Partners, as the original Field Perimeter will continue to be available for purchase. And just like with the introduction of Anti-Static Field Tiles, there will be no requirement to use the Portable Competition Field at your local competitions for the foreseeable future.
The Portable Field is available for pre-order now at the link above. Barring any setbacks (we all know how overloaded shipping ports are right now), we expect our US orders to start shipping in Mid-Late January, with international orders soon after.
One other thing that I'd like to note now, there is a chance that the Portable Field Perimeter will be used on practice / skills / division / dome fields at the VEX Robotics World Championships, so teams should prepare for this possibility. We will of course provide you all with an update when we know more.
Don't be alarmed, all of our testing has shown little to no difference in robot or field performance between the Portable Field Perimeter, and its predecessor. I just wanted to give you all a proper notice now, because otherwise we all know that someone will have their "perfect" Autonomous fail at Worlds, and immediately blame the field.
As always, if you have any questions, please contact our Customer Service team at sales@vex.com or by phone at 903-453-0802.