can you explain what this is?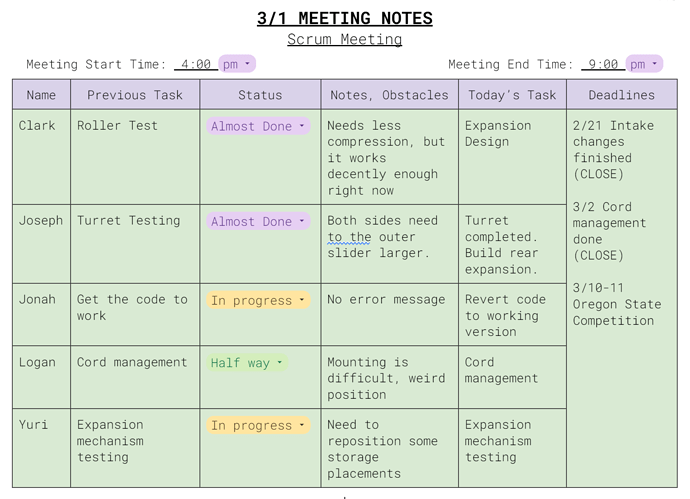 Just a table that you fill out at the beginning of each meeting. It works best if you sit down with everyone on your team and all talk for 5-10 minutes orienting yourself by filling out the table. It will also help spark discussion on how to solve the problems that each person is working on and help reinforce your timeline. To judges, it also shows what each person was doing, and that your team can allocate resources well.
oh okay, that makes sense! thank you
i jus got the chance to look at ur notebook, that is better than i could have imagined.
Oh yeah! It takes time, but it's definitely worth it. If you're notebook is very well documented, then you have a chance at the Innovate, Design, and Excellence Awards I want to say based on my last season experience, although you also need a great performance if you want Excellence.
Here are some random example pages from my teams notebook for this season:
(Note all illustrations handdrawn and colored by me)(they also are not in any particular order)

Everything i do for the notebook, i handraw and/or handwrite into the notebook, as it tends to look much nicer than digital
One thing I like to do with the physical format is to use gel pens for coloring as well as going over important details/topics.
I love it! It's definitely a great start!
I (hopefully) will be able to start mine over the summer once I get access to the notebook. I will try to share with everyone what I have!
This looks really good! I think many teams would benefit with organisation like your team's (cough my team cough)
XD believe me my team needs organization to, the only reason the notebook is neat is because im the one carrying it
hey do you guys do gantt charts or is that mostly just my school? i want to know everyone's opinions on them. i can share what mine looks like in a bit
I do include Gantt Charts in the notebook, yes! It really helps show progress and goals in a very organized way! I absolutely recommend using it!
okay thank you! tipping point was the first time using one and i didn't know much about them or even what to include in them, but i've done some research and asked other teams at my school who get design or excellence a lot and mine have changed a lot. i've heard that judges like to see them and others sometimes over-look them
In my opinion, the notebook looks more organized with Gantt Charts, which is basically what it's for, because it shows team progress and goals, and not only is it a great idea for the notebook, but it's also a great way to keep your team focused and motivated to achieve goals.
do you use highlighters or colored pencils for anything?
I usually use gel pens. I love using them! I don't use colored pencils because it's not permanent ink, so I don't use it. I never considered highlighters, but I think that would be a great idea for highlighting main topics or details! Although I don't know if it would bleed through the pages. Then that wouldn't be good. I also don't know if it would smudge the pen ink if you're using physical notebooks and not digital.
Maybe for coloring use gel pens. There is this thing called highlighting tape. Maybe if you explain its use in the notebook, it might work, although I've never tried it myself.
Great question though!
i know (technically ) 2 years ago i know i over highlighted. i highlighted everything. then some people at my school don't have any color in their notebooks. which i see as boring.
also opinions on for como pages, using a red pen for red alliance and score and blue pen or blue alliance and their score?