Hello:
I had these line defined :
digital_out Claw = digital_out(Brain.ThreeWirePort.A);
That said, if I put codes in auton area: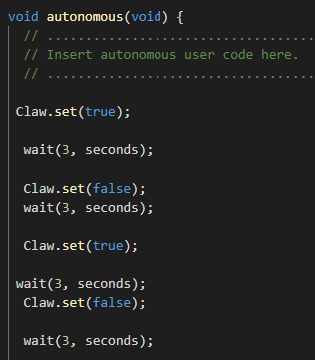 Everything works OK. The cylinder moved in, waited 3 seconds and out waited 3 sec few times during auton as expected.
I then put these lines in driver control:

Driver control works fine. But… auton won't work anymore. Just the 3 sec + 3 sec + 3 sec wait and wait. If I take out driver control codes, auton codes work again. Why is there a conflict? Any help will be greatly appreciated.
Thank you.