Introducing a life hack for the teams who was lucky to receive V5 bundle, but are still waiting for for the second V5 battery to arrive.
This portable charging solution can be used while waiting in the queue or at the practice fields to top off your V5 battery. This will give a second life to your old Cortex batteries and a couple of power extension cables (or you could crimp your own tamiya connectors).
When fully charged two 7.2v batteries will give you closer to 8.0v so their output when connected in series should be enough to match output of V5 charging adapter, rated at 16v / 1.1A.
This took about 5 minutes to build and the most important step was to ensure that output polarity matches what V5 battery expects: positive on the inner terminal, negative on the outer.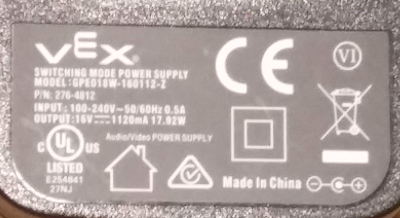 I used an old 9v phone charger (for the plug), small twist-on wire connectors, and an optional digital voltmeter to monitor battery status. The parts cost less than $2 if bought online (would be slightly more expensive from a local hardware or hobby store). I would assume that you will need to use some soldering, electric tape, and hot glue (or 3D print a case) to make it more robust in the chaotic competition environment.