So, your drivers are scouters at the same time?
Sort of.
At our local competitions (20-40 teams), scouting is valuable but not critical.
When we aren't currently in a match, we watch other matches and scout. Sometimes I tune up the robot while my partner sits in the stands. Apart from that, we don't need any extra scouting.
The only larger competition we attend in the season is Worlds.
In that case, we try to do as much internet-based scouting as we can, but when we are at worlds, we deploy some other scouts from our club.
Do you get more people from other teams who have not made it into worlds to assist your team?
Yes. When we go to worlds, our core team usually adopts a third member (coach/scout), and we have other club members dedicated to scouting.
That's reasonable, is your team part of an organization?
Yes, we have funding, management, administration, and coaching done for us (by the school district, our coach, and parents).
We have had in the past few years about 3 competitive teams in our club, but mine is the only one who made it to worlds last year.
So then your teams combined when you went to worlds?
No, you would not use it for actual competitions as it would not be able to compete with all the robots there. Besides, why would you compete with the bully-but if you already have a robot that is better that it. It is primarily used to train for competitions.
Do you have a picture of the Bully bot which you used?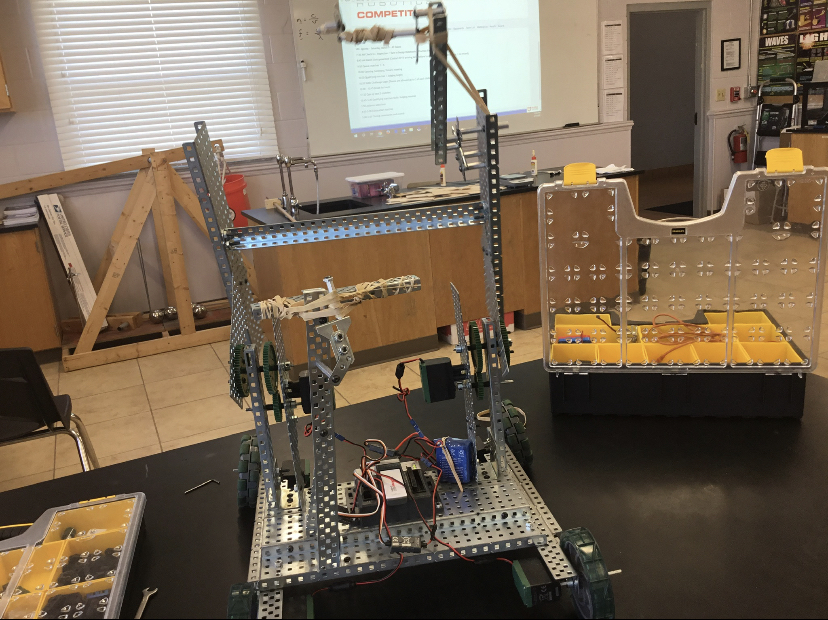 The first image is of our sister team's bully-boy. It could only flip the caps on the floor and had a 2-motor drive. My team's bully-boy could get onto the platforms, de-score caps on the lower poles and could flip caps on the ground. Both could toggle the lower flags. I hope this helps.
We had to use hinges and rubber bands to fold the part of the lift that allowed us to de-score caps to have it be within the size limits (but even so we loosely followed those for the bully-bots). If I were to build one for this year, I would use a 6-motor drive with a 6-bar and 2-cube capacity claw (but you should build whatever you think is best for your team).
when I practice driving I have a teammate mess with the bot and throw prices around and generally cause chaos.
During ITZ we had an already built clawbot mess with us during practice before state, and during TP one of my teamates went on the field and toggled flags and flipping caps before worlds
I will say this, planning out any changes for the robot in advance (I really do mean everything) is absolutely necessary. I have first-hand experience of how hectic it can be when you go in blind for a robot change. Even basic sketches of a mechanism or a detailed drawing is enough to give you an understanding on what goes where, but planning out mechanisms in CAD is always the way to go.
What I've found is that physically building the robot is easier than cading it. Because it takes forever to align everything in CAD. But it does conserve parts.
Well I'm pretty sure cad has some auto align feature
But then you have to configure that feature. Do you know how it works? And what software do you use?
the thing about CAD is that is takes a lot of time and effort, but you end up saving more time than you would by rebuilding a mechanism blindly until it works.
It's especially great if the members of your team don't meet that often or live far away from each other. Take team 240P, for example.
They used CAD to prototype their "High Quality" robot as they did not meet that often.
And then when they did they actually built their robot?