Here it is, the robot I have been working on. I call it Kobe because it's made sink every shot it takes, no matter how many robots are defending, just like my guy Kobe. Anyways it's a very rough CAD because I stopped being able to cut c channels so some are poking out, and I didn't know how to change it to look pretty so you guys could see it better (Sorry).
First, the intakes are made to flip out. I wanted them to be able to go deep into the goal to get a ball and this wasn't happening unless they flipped out.


Too save time I didn't CAD the axel but the intakes are meant to turn over the point where my mouse is in the bottom picture. I think I'll just have a rubber band hold them there, that will be connected to a screw popping out of an iron collar so when it moves the rubber band falls off of it and the intakes fall down.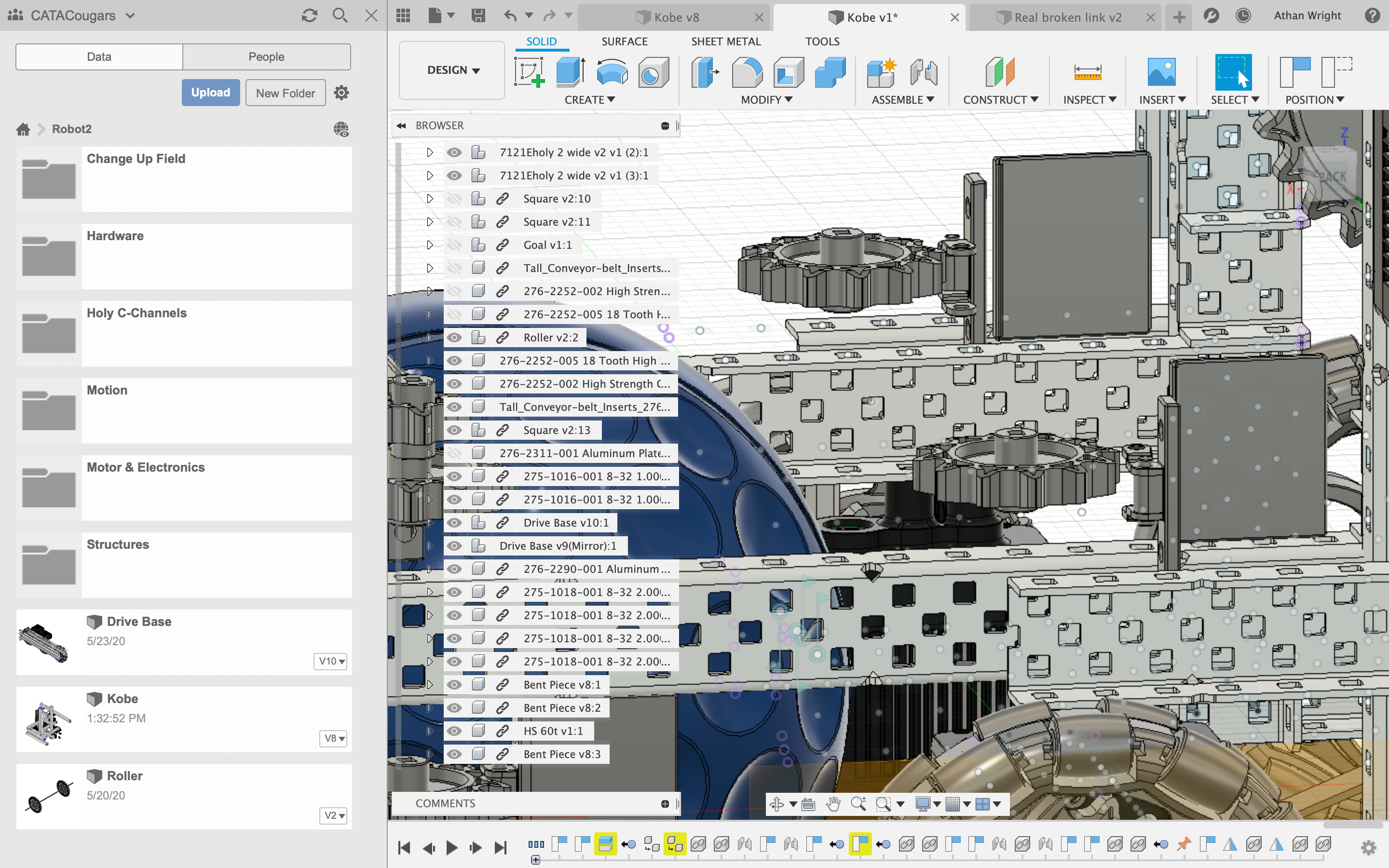 I really struggled with where I should put the motor because before the intakes were on the outside of the c channels holding the indexer, but after I put them inside I feel like I made it work pretty well.
Another point of interest is the way I have the rollers chained.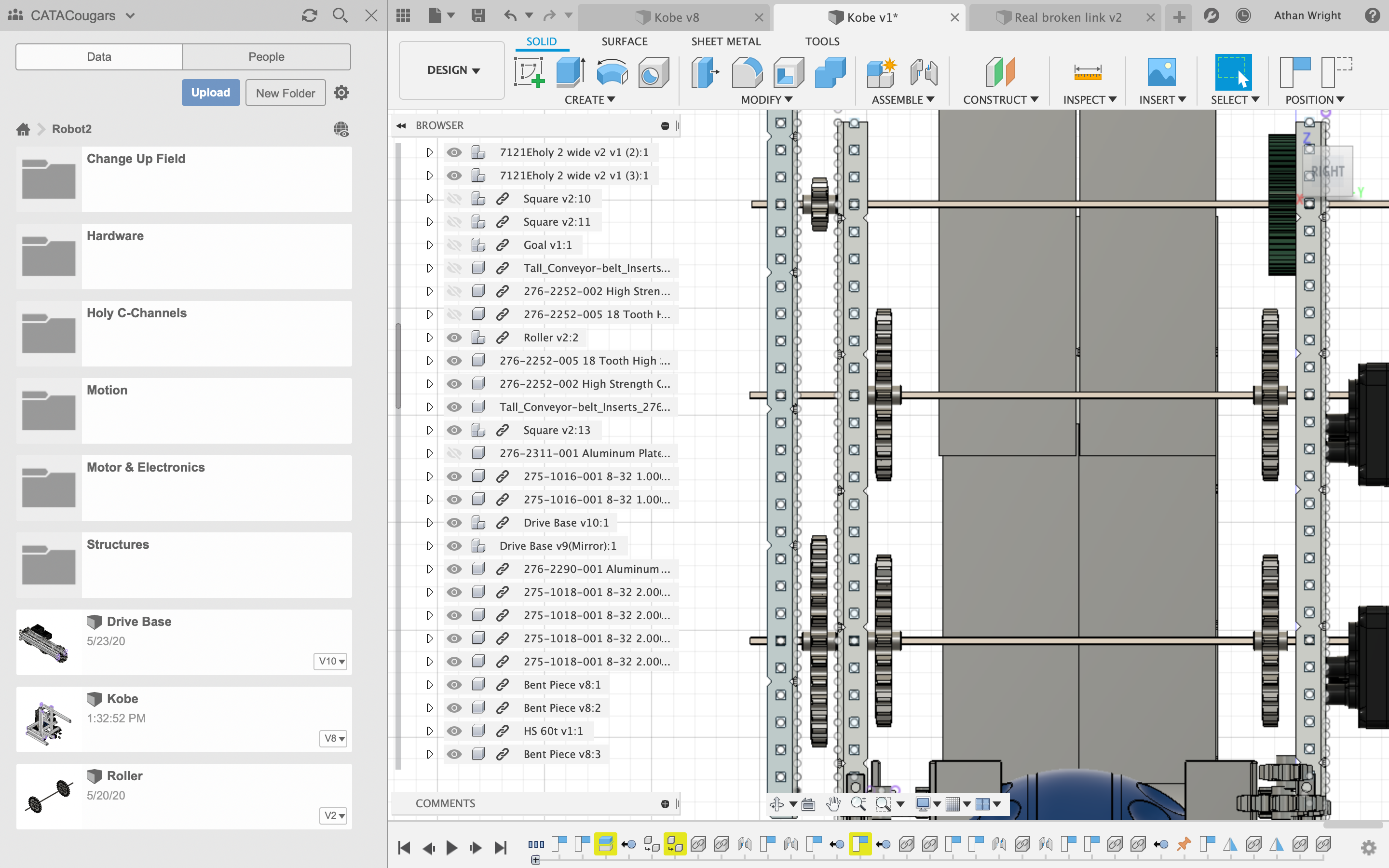 Its a big sprocket on the bottom chained to a tiny sprocket on the top so that will hopefully make the ball shoot out farther. I feel like this is an awkward setup, thoughts?
I also don't really know how I am going to make the ramp flip out. I am thinking that I will have it connected to hinges and those will be rubber banded somehow. But if I do that I may have to lower the whole roller system because if I lay the ramp extension on that it would be too tall.

Also I spent a lot of time working with how the ball would interact with my robot.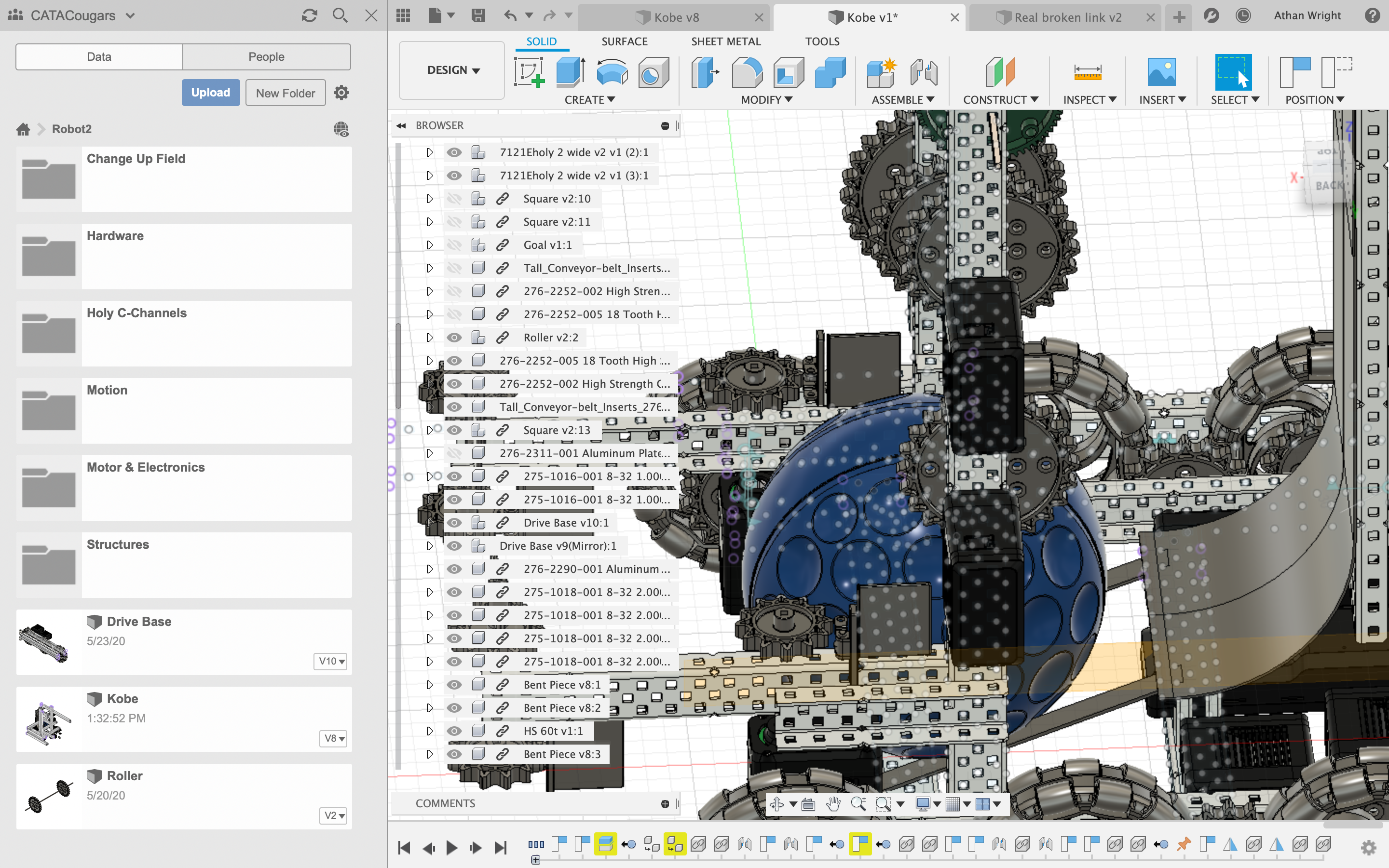 I didn't want to have so much space between the rollers and the ball, so the ball is always very close to the rod of the rollers. However I am worried that in actual practice the balls will hit the roller rod and be prevented from flowing smoothly. I may move the ramp back to account for this.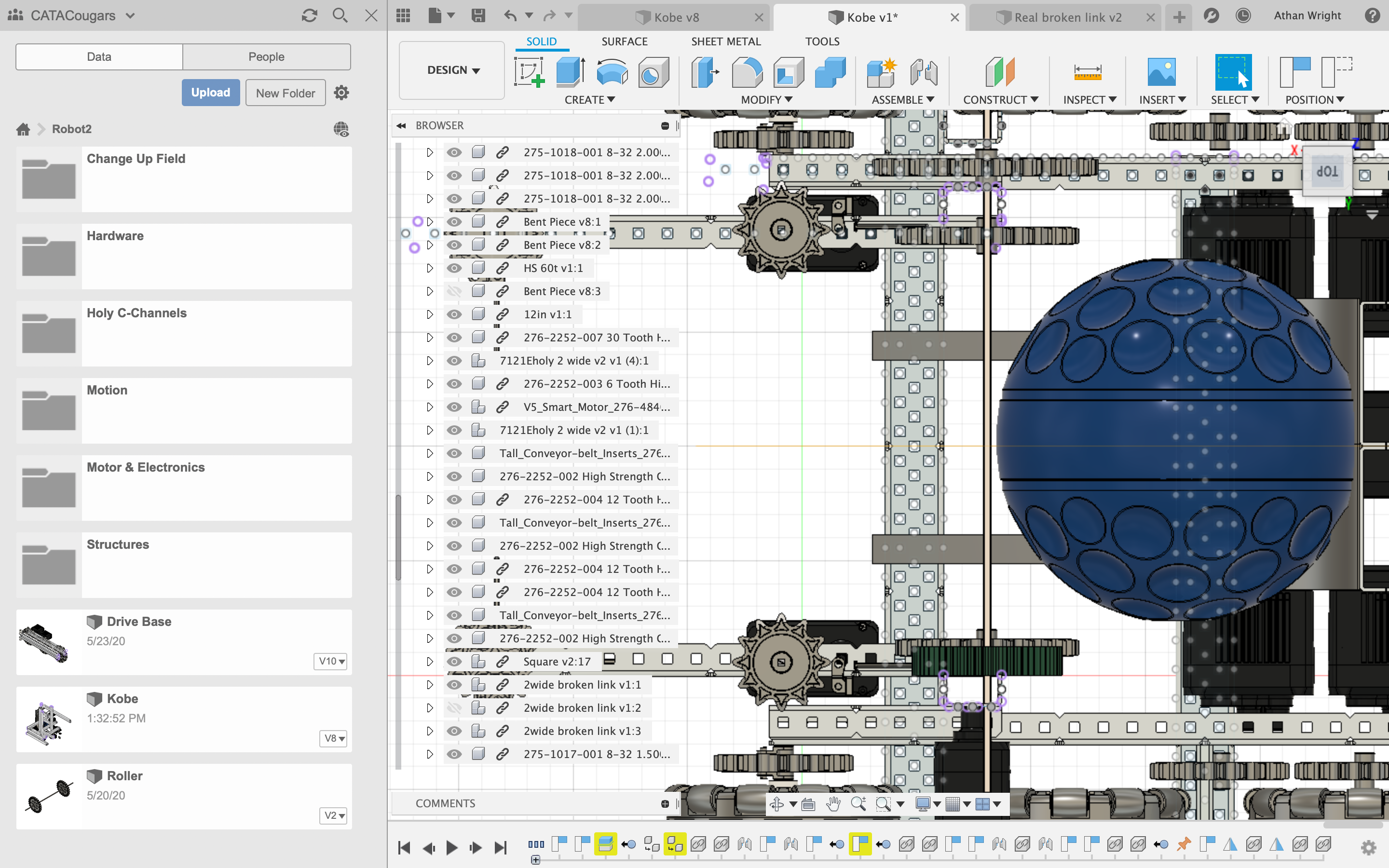 One last thing is securing the roller extension part.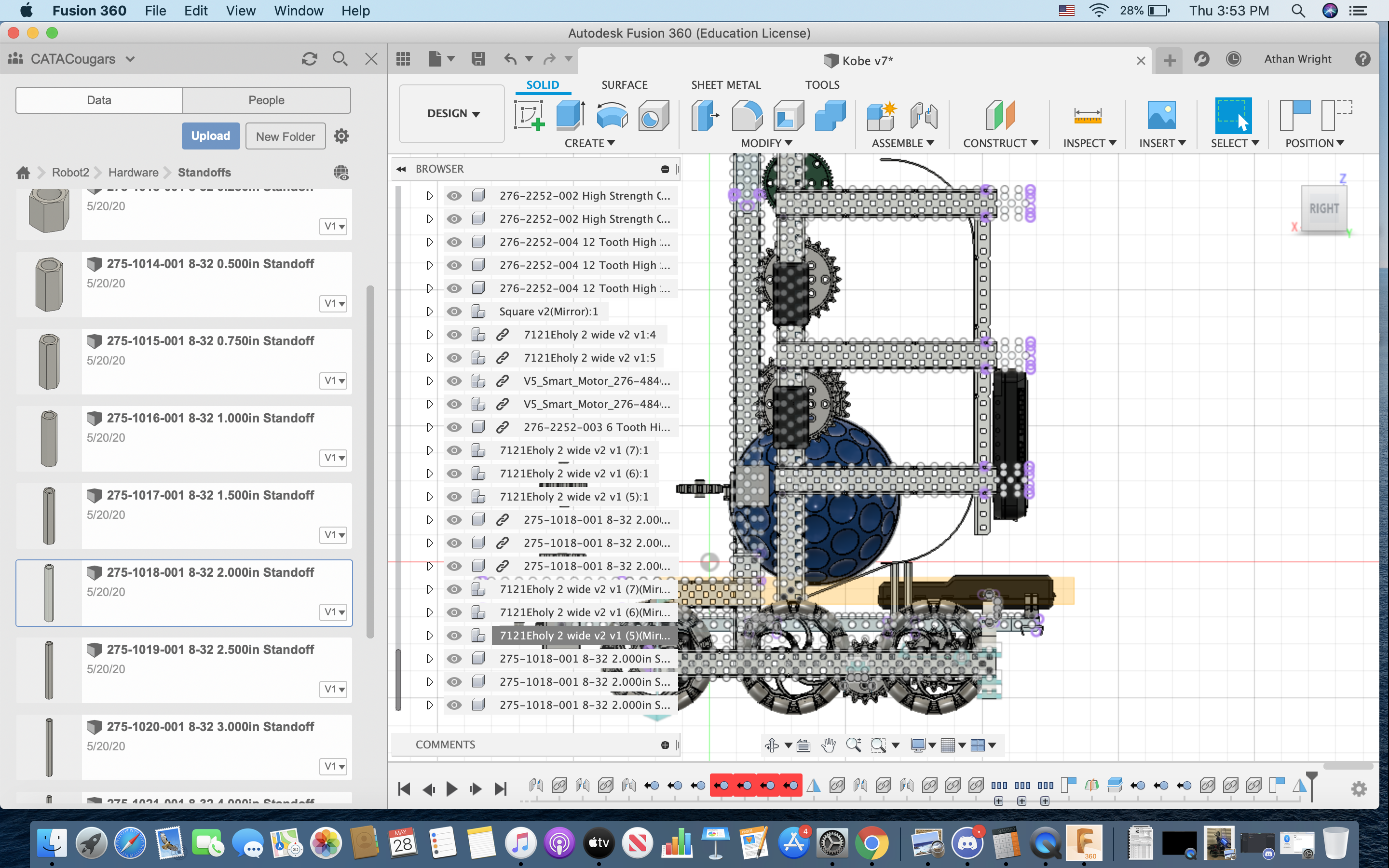 I just planned on having a few c channel bars running across. I was really debating whether to have that or one long c channel piece slanted across it because I wasn't sure which was stronger. I also plan on attaching something on the inside of this support so the ball has less room to move to undesirable places.
So thats just some of the things I was focusing on. Of course all of the robot needs improvement so if anyone sees something they feel could be built better/ more efficiently, please don't hesitate to say something.
I am relatively new at this because while I've had much experience with vex it has only been competition in a county sanctioned competition that is not at all vex. The building doesn't really start until a few weeks after school starts… most people don't even know what the new competition looks like until then. But this year I became the president of the robotics team and I've been able to do really well in these simple competitions so I am looking to make the jump to real vex competitions with strong teams this year. I say all this to say that many things that seem obvious to veteran members is not to me so I would really appreciate any insights people have.
Sorry for the poor quality, this is my first time using Fusion 360 so I am still getting the hang of things. In order to save time I didn't sketch most spacers, axels, standoffs, chain, rubber bands and other things so please bear with me.
From,
Athan Wright
I don't even have a team number yet haha.