Can we stand anywhere around the field in skills. Just conforming, just too lazy to read the manual.
I'm sorry, but why don't you read the manual? If after reading the manual you are still confused, I'd suggest looking at previous forum topics/posts for guidance. If you are still confused, then you should make a topic. Please read the manual before making topics.
At least you're being honest…are you also too lazy to load the VEXIQ hub onto your phone, so you can have it with you and read it?
I am just asking you do not have to be so rough. Also I have alot of work to do.
I would recommend to read the manual before even starting to build your robot, and no, you can't stand wherever you want for driver skills at in-person events. You have to stand at the "short sides" of the field.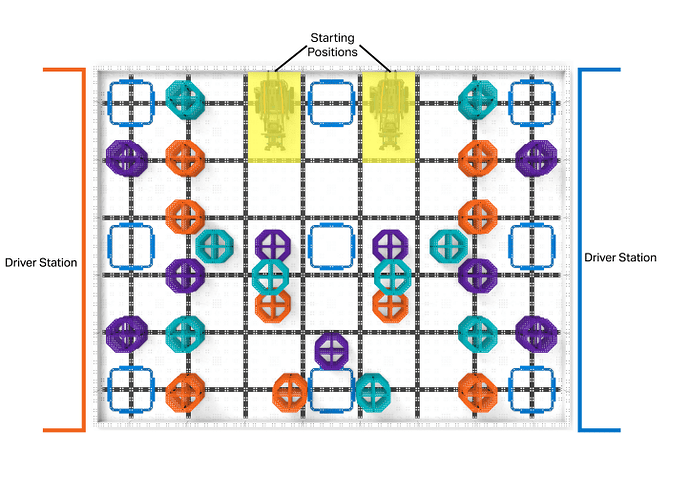 Yes, I know that this isn't the riser set up for skills, but rule RSC1 covers this, stating
Standard rules apply in most cases. All rules and scoring from previous sections apply to the
Skills Matches, unless otherwise specified.
Also should review RSC7 (d) in the Game manual, regarding the driver's station.
That is true for programming but I believe it isn't true for driving skills. Correct me if I am wrong.
There's also RSE7b which applies only to remote skills-only events:
Skimming the game manual would probably have gotten you an answer in less than the 20 minutes it took on the forum.
Also, you can always ctrl+f "driver station" in the game manual and probably get a good answer within 5 minutes.
Pro tip: People are inclined to be less "rough" to others who don't admit to being too lazy to do [X]
Exactly, thats why I'm too lazy to type in that I was too lazy to look it up!
obviously you have enough time to be on the forum, so I can't see you not having enough time to take a quick glance at the manual.
This is just a Ankith hate thread by now. please close this topic
But it was his action of not reading the manual (and saying it) that caused people to be rough since everyone says to read the manual. and it was such a simple question which could have been answered in like 2 minutes. he then says
He just doesnt want to put in the time to actually read the manual or find the answer by himself.
So yeah people are rough on him, but its usually because of his actions. and like Drow said:
True, after reading this thread I am quite exasperated at how silly his question are but the last couple of responses are just plain hate. That should not be the point of this thread
This topic was automatically closed 365 days after the last reply. New replies are no longer allowed.