Team 404 Post-Nationals Reveal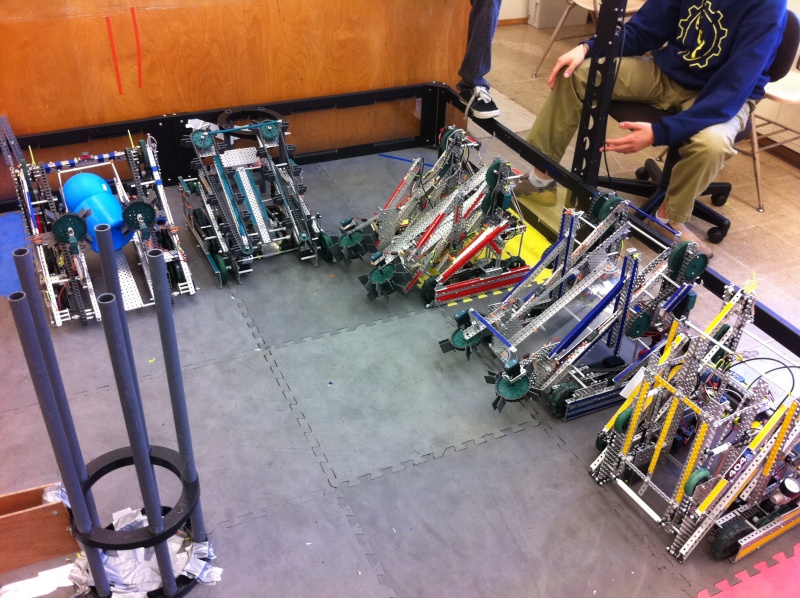 Now that Nationals is over and videos will probably be released soon, we'd like to post up our first ever robot reveal. Anyway, the level
of the tournament was quite high, and the competition was really intense. We were fairly suprised at how successful the tournament turned
out for us. The results were as follows:
The tournament champions were: 404, 12A, 404C
The tournament finalists were: 404A, 12D, 402B
Excellence went to 404A
[Picture to be added]
Here are some details of our 5 robots, and a discussion of the overall strategies we utilize.
Robot 1:
[Picture to be added]
Overall emphasis: Balance in Isolation
Chassis: x2 269 motors and x2 393 motors on 1:1.25 speed ratio.
Tower: x2 269 motors and x2 393 motors on 7:1 torque ratio.
Intake: 2x 269 motors.
Key features: "Virtual 6-bar", raised chassis
Designed solely for isolation. Wins center 20" goals consistently, although it ties the goals every so often. For the arms, we created
what we call the "Virtual 6-bar," which is essentially a combination of a 6-bar and a chain bar. It gives us most of the stability
afforded by 6-bars, and allows us enough freedom to gear the tower with 4 motors on a 7:1 ratio. We take advantage of a raised chassis to
give us an advantage mid to late game. Not excessively fast, but there is very little wasted movement so it's pretty efficient overall.
This bot ranked 1st in Black Division, just barely passing 1200F after they tied with our 404E team. Although it went undefeated, its
ranking points were extremely low, as we focus on negating opponents' goals moreso than doubling our own goals. This bot won the
competition with 404C and 12A. The closest this robot ever came to losing the 20" goals was during the Finals against 12D, which played
an autonomous programmed specifically to counter our autonomous.
Robot 2:
[Picture to be added]
Overall emphasis: Speed in Isolation
Chassis: x4 393 motors internally geared for speed.
Tower: x4 269 motors on 11:1 torque ratio.
Intake: x2 269 motors.
Key features: Chain bar, radially symmetric side roller intakes, raised chassis
Also designed for isolation. Basic chain bar design, built as light as possible. The 11:1 torque ratio is pretty slow for our tastes, but
our motors cut out the night before nationals and we had to change the ratio to compete (initially it was geared 7:1). More often than
not wins the 20" center goals, or at least ties. On a side note, our driver is one of the three girls on the team, and a first year
member at that. Really made us proud. Anyway, the intake uses a unique "flap" orientation to both improve intake and make scoring easier.
This bot ranked 11th in Silver Division after some very strange incidents. Lost twice in qualifications matches; lost to 1069 in one
match, and 404A with 12D in another. Competed with 40J and 4148H against 404A, 12D, and 402B in the Silver Division Finals and lost after
extremely close matches (1 point difference in one match).
Robot 3:
[Picture to be added]
Overall emphasis: Power in both zones
Chassis: x2 393 motors and x4 269 motors on 1:1.25 speed ratio.
Tower: x2 393 motors on 7:1 torque ratio.
Intake: x2 269 motors.
Key features: pneumatics launcher, raised chassis, 6 motor chassis
Can play both isolation and interaction, although we have recently taken a liking to playing interaction. With two air tanks, a six-bar
arm, and a hefty tower, the robot is pretty robust. Basically it has a LOT of pushing power, and the high traction wheels prevent it from
being pushed sideways. Inspired by Viewpoint 1437's Z bot (good stuff). After they pushed us around one competition, we geared the
chassis ratio down and changed from a quad-omni drive.
High scoring robot, so it typically wins the center 30" and proceeds to block both the opponents' robots. The pneumatics is used to
increase loading speed from interaction zone to isolation zone, so we can keep the gate closed and our alliance safe until the last 40-50
seconds of the match. It can also be used to instantly secure the opponents 20" when we play Isolation. Of course, raised chassis for the
multiple advantages it affords us.
This bot ranked 1st in silver Division. competed against 404, 12A, and 404C in the finals along with its alliances 402B and 12D. Won the
first match, but lost the next two. This robot also did not participate fully in the skills challenge because we accidentally missed the
time deadline, which is unfortunate as we spent several weeks perfecting a driver's skills route. Was awarded the Excellence Award after
the tournament ended.
Robot 4:
[Picture to be added]
Overall emphasis: Early to mid game in interaction
Chassis: x2 393 motors and x4 269 motors chained 1:1.
Tower: x2 393 motors on 9:1 torque ratio.
Intake: x2 269 motors.
Key features: dual tread intake, 6 motor chassis, 6 wheel drive, chain bar lift
Okay, this bot is a complete 180 degree change from most of our robots. For lack of a better term, this bot is a "support" bot, as
opposed to the independently high scoring bots we usually design. It utilizes a chain bar arm which rotates over a very small angle to
increase our 30" lift speed. The front sprocket connected to the intake is smaller, allowing the intake to rotate and give us extra
height as the lift raises. 6 wheel drive gives us extra traction, while 6 motor drives gives us extra stall torque. Staggered high
traction wheels prevents the robot from getting pushed sideways. A jury-rigged weight block of sorts gives us the weight to push hard.
Intake is designed to quickly load the isolation zone with pieces from the pyramid.
This ranked 22nd in Black Division. It was selected as part of the 7th seeded alliance along with 4900 and 4405B and defeated the 2nd
seeded alliance comprised of 1200F, 40D, and 6813M. It was defeated in the Divisional Semi-finals against 4184G, 12F, and 402A.
The bot qualifies badly because it is EXTREMELY dependent on its alliance; it essentially acts as a power multiplier. It compensates for
its alliance's weaknesses and negates its opponents' strengths. For example, paired with a weak but fast robot like 404, it can typically
ensure a solid victory. Now, this robot sounds like a wallbot. However, a key difference between this robot and common wall bot designs
is its ability to score quickly. While it can't collect more than two objects at a time, it takes advantage of its 6 match loads to
secure the center 30" goal and the interaction 10" goal. After that point, it prevents its opponents from taking advantage of their
negation and doubler barrels, and allows its alliance to double the isolation 30" and negate a possibly lost center 20" goal.
Here is the prime example of this robot's efficiency. This robot with its alliances were able to defeat the second seeded alliance
(1200F, 40D, and 6813M) four times in a row. (If you're wondering how this is possible, the matches went as follows: Match 1 Loss, Match
2 Tie, Match 3 Win, Match 4 win. At this point, the second match was contested, resulting in the matches resetting to Match 2. So…
Match 5 Win, Match 6 Win.) Essentially, this bot was able to consistently win the 30" center goal, then sit between the opponents' two
starting tiles (not covering either tiles nor pinning either robot). Our opponents were then unable to double their isolation 30" or
escape the isolation zone to negate any of our goals. Team 4405B doubled our isolation 30" unopposed, and negated our lost 20". In the
final match, every single goals' point differential was controlled by our alliance (which on its own also ranked low in qualifying
matches with a score of 1W-5L-1T). In short, STRATEGY IS EVERYTHING. In other words, just because a robot ranks low does not mean that it
is an inherently weak bot.
On another note, I know a lot of teams seem to dislike purely defensive strategies, and seem to categorize this robot as purely
defensive. I disagree. This robot was designed to score the 30" center goal FIRST. Then and only then does this robot revert to a
defensive strategy, in which it supports its isolation alliance via passing it game objects and interferes with its opponents. Yes, this
bot may be frustrating to compete against, but no more so than a robot that is several times more efficient at scoring. In other words,
this robot levels the playing field, rather than completely obliterating its opposition. With proper strategy, an individually low
scoring robot can exhibit its true potental and compete on par with an individually high scoring robot. We feel this is a positive change
in the meta game, and the visible change in the meta game after we utilized this strategy during Nationals seems to point to this.