Pretty bad quality but…

oh eric andre sry i is dumb
Options 1 and 2 combined.


Looks I am now a seasoned vex memer.

University teams: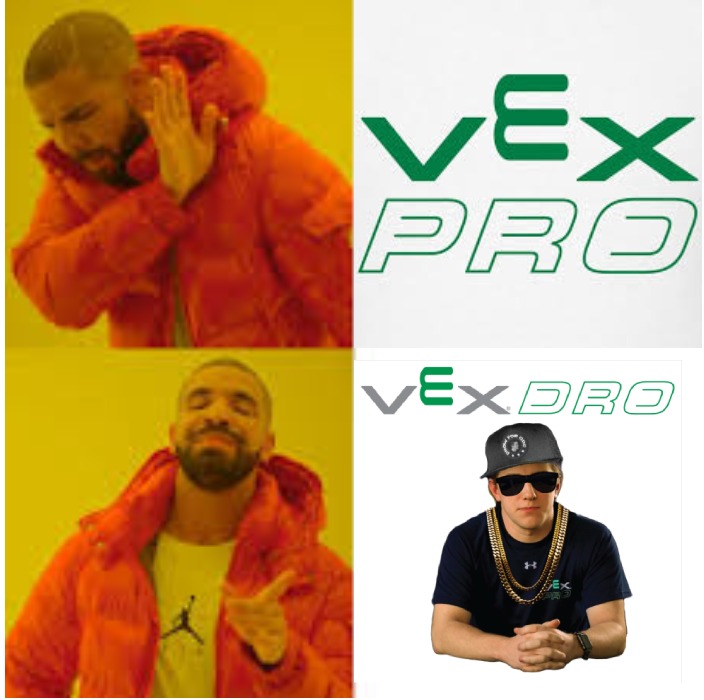 This year is 2nd only to ITZ for convergent evolution. Tray bots for the ease/simplicity, dr4b if you can make it worth it. The real challenge is lifting up to 1.3kg worth of cubes 4 ft in the air, reliably, more than once. That is something that is a challenge for novice teams. So much more engineering needs to go into getting a functioning lifter vs a tuned traybot.
Now I challenge experienced teams that go to competitions to load their bots up with random bent 5x25 aluminum plates and those weird steel rails no one uses. Also, add in a few very poorly dressed wires as decoration just to get your opponents guard down. Maybe a few screws placed into holes but not secured so they rattle and fall out. The ultimate sleeper.
Just make sure you fall down to become a wallbot towards the end after you score your 3rd tower, and passively defend your way to victory.
selecting colors be like :
teams in america be figureing out how to build a one stage tray
teams in china be like:

oh u mean this its from a song
Oh I get it now. I am used to rock and some rap. Never heard of him. Thanks
i was in the same boat (but rap and some rock)until this song but i herd it on the radio and i was compeled to make it a meme
Then you check and there is absolutely no place it could have been? I be had so many screws just fall from nowhere.
However, that's a good thing because you simply drive the robot for a bit, get some screws, and make a profit!

This picture is legendary.


(From @2775Josh)

I can't tell what the guy's shirt says. Attention Walmart Shoppers??? or Kmart Shoppers?
It's Kmart
I know what picture I'm putting on my bot
Our sponsor logos