Hello to any who may read this. I am reaching out as a representative of team 526A to share a resource we have been putting together - and we could use your help.
Many of our clubs members will be graduating at the end of this season, so we began trying to write down and teach our collective knowledge to our younger sister teams. Through talking to other teams in our area we realized a resource like this could be useful to many teams, new or not. We hope that having a community led resource that any team can add to will help all teams grow and lead to new ideas and better collaboration, and eventually a more fun competition for less experienced teams.
We are not only sharing this resource, but asking for help. As mentioned, we have many gaps in our knowledge. One large example of this is that our club has only ever coded using block coding. If you see this resource and have the time and ability to add any knowledge to it, especially in the realm of explaining different methods of coding, please do. If you wish to mark that you helped there is a slide to list contributors at the beginning of the presentation. The manual is still very much a work in progress, with many empty slides, missing slides, and odd formatting. We aim to fix all of this quickly over the next few weeks to have the majority of the basics completed by the start of the next season. Any help in doing so will be greatly appreciated.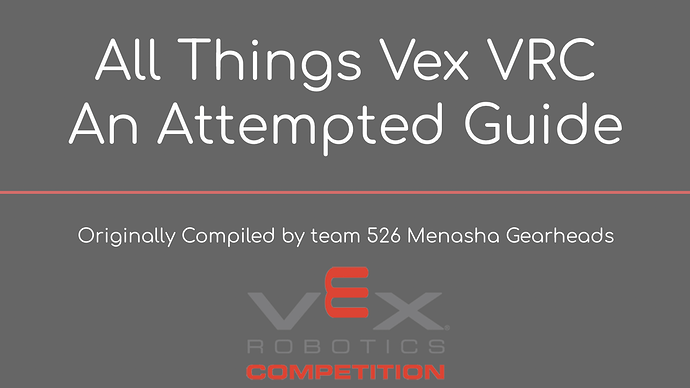 If you have issues accessing it or wish to have it shared with you/gain permanent access, or otherwise have comments or questions, feel free to either reply to this post or email us at: menashagearheads526@gmail.com and we will respond when we can.