So our season unfortunately ended early, due to us not reaching states, but us here on the Vex side of The Granada Hills Charter Robodox 599 team started working on a pretty neat contraption.
that's right, it's a two speed transmission system built compactly into our base
The system works by having the motor spin one of two gears on a shaft that is moved back and forth by a pneumatic cylinder. To give a clearer demonstration, I wanted to make a CAD going into detail about the system that has been in development for 3 weeks. Unfortunately, I don't know CAD even remotely, and the CAD guys on our FRC division told me to go away because they were busy, so instead enjoy my diagram I made in MS Paint with 5 minutes, a computer mouse, and a near complete and total lack of hand dexterity.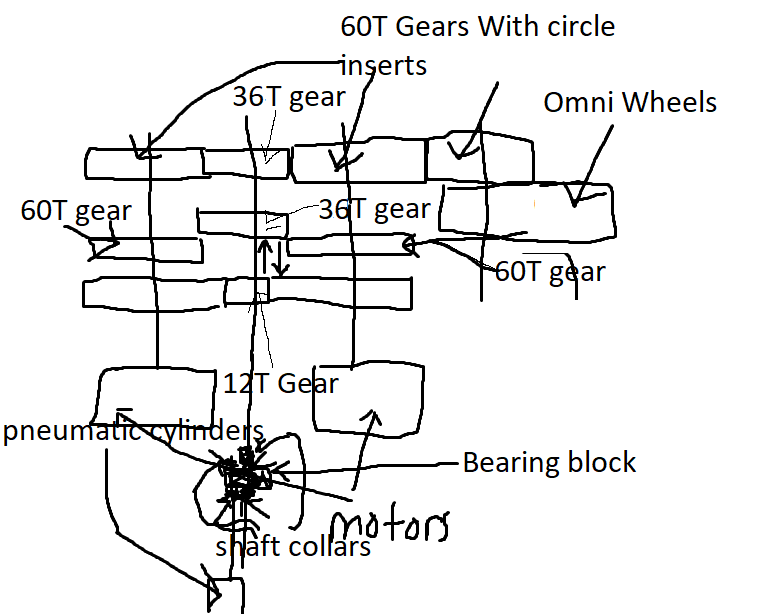 The design works pretty well and building it doesn't take too awfully long to build, most of the process was mere designing but actually building it is quite simple, and most repairs/modification should take only about 30-40 minutes if you know what you're doing.
Here's also a video of the base carrying two alliance goals on the torque speed (6 lbs). Due to the fact I didn't want to edit it, y'all get to hear me announcing over it.
I'd also like to add that, while we unfortunately didn't get it on tape, the robot running on speed gear is insanely fast, being able to zoom across the field within seconds. Also while on torque, the bot is practically unmovable, we could even sit on the platform at a slant and the bot would barely be affected.
Now it isn't completely finished, the demo showed off in the video doesn't have the pneumatics completely integrated into the system, as you can tell the pneumatic system is running outside the bot at the moment. But at the time of posting we have integrated the right side into the base.
I'd also like to acknowledge some minor issues we have encountered,
For instance…
In the video, when shifting gears we did notice that occasionally the gear did get stuck while shifting. this problem was usually fixed by just turning in the opposite direction for a wee second.

We also noticed that after shifting about 10-15 times our tanks ran out of air, which is quite par for the course when working with pneumatics since friction reduces pressure. It's merely a factor to take into account and you should have an air compressor nearby if you want to try our system.
and that's just about all we've observed in the way off system malfunctions so far, I'll edit this if we find any more
The gear ratios are a 1:1 on speed or a 60 tooth to 36 tooth shaft connected to 36 tooth in a compacted gear ratio and then geared to 60 tooth. And a 3:35 gear ratio on torque or a 12 tooth to 84 tooth connected to 36 tooth in a compacted gear ratio and then geared to a 60 tooth. Forgive me if I've calculated the gear ratios wrong but there ya go.
Currently the name we've decided on for it was VICTOr
or Vex Integrated Compact Transmission Operation, though I'm open to better ones.
I'll be back next week with a more improved version that has the pneumatics/clutch fully integrated into the base so I can show y'all the base in action, on the field, carrying out it's practical functions, and perhaps I'll tone down my commentating. Feel Free to ask me anything about the system.
EDIT: I also forgot to mention that we're using four motors and not two. We accidentally ran it on two motors and the base just didn't have enough power to move with out the gears just breaking. Though we did have the second motor geared to the base at the time so that might have played a role in it, but yeah, definitely better to go with 4 motors,
we were also using green cartridges (200 rpm).
We haven't tested it yet on blue (600 rpm) or red (100 rpm), but we assume it could still run it would just reduce speed or torque quite a bit. Essentially, just go middle of the road and stick with green cartridges. that way both sides of the transmission are equally useful
EDIT 2: I also forgot to include the fact that we used a double acting, pneumatics cylinder