The problem
We have two vex iq gen 2 brains, both not functional
The first brain - specific problem
For our first brain, it suddenly told us to update VEXOS a few weeks ago, and at first the update got stuck for a long time, over 30 min. So that day, we retired the update and switched to the 2nd brain. The next morning, the update suddenly worked but we didn't switch back. We thought it would be functional after our 2nd brain broke, but it still randomly prompts for an update to VEXOS sometimes, though it cannot be recognized by our computer. Some other times, when we restart the brain, it does not prompt for an update but will randomly crash in use, seemingly without any pattern and prompt an update for VEXOS once we restart it once more.
The 2nd brain - specific problem
The 2nd brain suddenly prompted us for an update a day ago, and vexcode iq is able to prompt us to update when we connect the brain. However, the progress bar on vexcode iq would always reach the same point at about 65 or 70 % before it says "Firmware update failed! Try again.". Even more strangely, vexcode iq seems to think the brain's VEXOS version is 1.0.0, even though I remember we updated it a version above that around two months ago.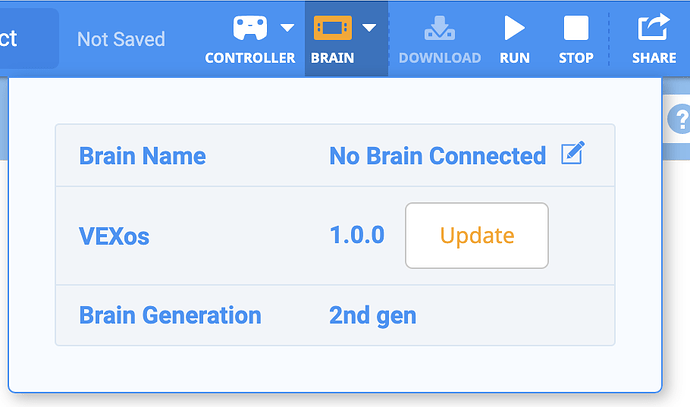 this is an image of the brain being connected to our computer
Conclusion
Please help us try and find a way to fix at least one of our robot brains! There will be no way we can improve our autonomous or attend the State Robotics Competition without resorting to our old Gen 1 brain and completely rewriting all of our code! Please let us know if there are any other examples or resources we can provide to help you help us fix this!