HI,
Do we need a digital notebook for this year's game Full Volume?
Yes, all games require at least a basic engineering notebook. Their is also awards you can win based on the notebook.
Notebooks are not required, but there are awards at completions that are only given to teams that present notebooks.
My team used a physical notebook at the start of the season and transitioned to a digital art the end.
It is not a requirement to have an engineering notebook to compete. However, not having a notebook silently disqualifies teams from most design-based awards.
When it comes to the medium of documentation (ie. digital vs. written), either form works completely fine.
More information pertaining to what judges look for in an IQ notebook can be found on page 36 of the REC Guide to Judging
I would guess that Worlds will require the notebook to be digital, or scanned in, like this year, but local and regional events won't require it. We are planning to us the digital notebook template this upcoming season and print an up to date physical copy for local events - that way all team members can work on updating it digitally and it will be ready for any event that does take/require digital entries.
Can we use digital notebook in normal competitions?
No, they require normal notebook (PHYSICAL NOTEBOOKS).
You must check the "judging" tab on Robotevents.com for the specific competition you plan to attend. For example, this one (from last season) requires physical notebooks…but the EP will specify what format is required.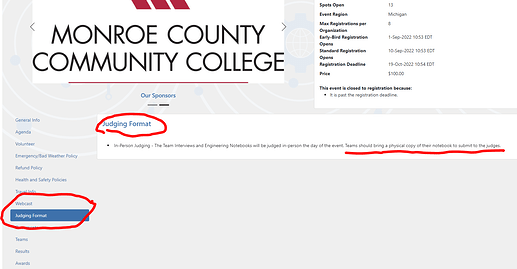 The intention of this page is not to define whether pages are created in the digital or physical format, rather which format is presented. The key word is 'physical copy'.
So, a team can make a digital notebook, as long as they transfer it into the physical format (ie. printing out pages) for the tournaments that require it. The same goes for written notebooks at tournaments which require a digital copy (scan/take pictures of pages).