Hello Everyone,
Our Vex Robotics team has competed for two years. Now we are done with our Vex Robotics season and we have no plan to compete anymore. Therefore, many pieces and parts in great condition are sitting in storage, unused. I am trying to sell parts like structural metal pieces, motors, wires, batteries, sensors, wheels, screws, kits, controllers, etc. All parts are in great condition and were only used for two seasons. Some parts were bought in 2017 and others in 2018.
I have three packed boxes filled with these VEX parts that add up to exactly $2,566.85 original price. The three boxes' names are: Structure Pieces Set 1, Structure Pieces Set 2, and Electronics Set (A detailed list of all the parts for the original price in each box will be posted below). All of the prices of the items were calculated from the original price from the Official Vex Website. A list of the items in each of the three boxes will be posted below; the list displays the name of the item, price, and the amount of the item. A description will added to specific items (measurements, sizes, etc.)
For example:
• (Name) (Price) (Amount)
• Potentiometer (2-pack) ($25.98) x2
I will be discounting those used parts up to 30%. This is a great price for buying good condition VEX pieces before the next season starts up! After I know what you want to buy, I will then charge 30% off the original price. I highly recommend buying all the boxes at once, which are enough for everything you need for a new team!
I also have the whole Competition Field Perimeter Kit that I am also selling. I will be discounting 30% of the original price (original price is $799.99). If you buy the perimeter, game pieces from previous seasons will be added with no extra charge so that your team can practice games from previous years. It's a great way to practice different games from different years to help improve your team.
Lastly, I'm selling the Akro-Mils 10144REDBLK 44-Drawer Hardware & Craft Plastic Cabinet, Red & Black for only $15.00. The original price for this is $37.19 on Amazon; thats more than 50% off! This Drawer Plastic Cabinet is a great place to organize small Vex pieces.
I recommend buying everything we have to get the most value (all three boxes, Perimeter, Drawer Plastic Cabinet) out of everything. If you buy all of this, I will then discount the entire original price purchase by 30%.
Pictures and lists of all the items will be posted below. Again, all the prices below listed are the original prices, besides the Drawer Plastic Cabinet.
I live near Central Massachusetts, so if you live near the New England area, you can pick up your purchase. If you live farther, I am still willing to ship it out to you, but I highly recommend you to pickup the boxes in person to make sure the items in the box are present and in good condition.
Please let me know if you are interested in buying these used items for a great price. Pictures will be posted below. Everything besides the Drawer Plastic Cabinet (Three Boxes and Perimeter) is $3,366.84 original price without the 30% discount.
Thank you for your time!
• VRC in the Zone - Game Element Kit ($79.99) x1 (Free)
• VRC Turning Point - Game Element Kit ($39.99) x1 (Free)
• VRC Turning Point - Field Element Kit 1 ($229.99) x1 (Free)
• VRC Turning Point - Field Element Kit 2 ($129.99) x1 (Free)
• VRC Turning Point - Pipe Kit ($59.99) x1 (Free)
• VRC Turning Point - Game Element Kit ($39.99) x1 (Free)
• VRC Starstruck - Game Element Kit ($79.99) x1 (Free)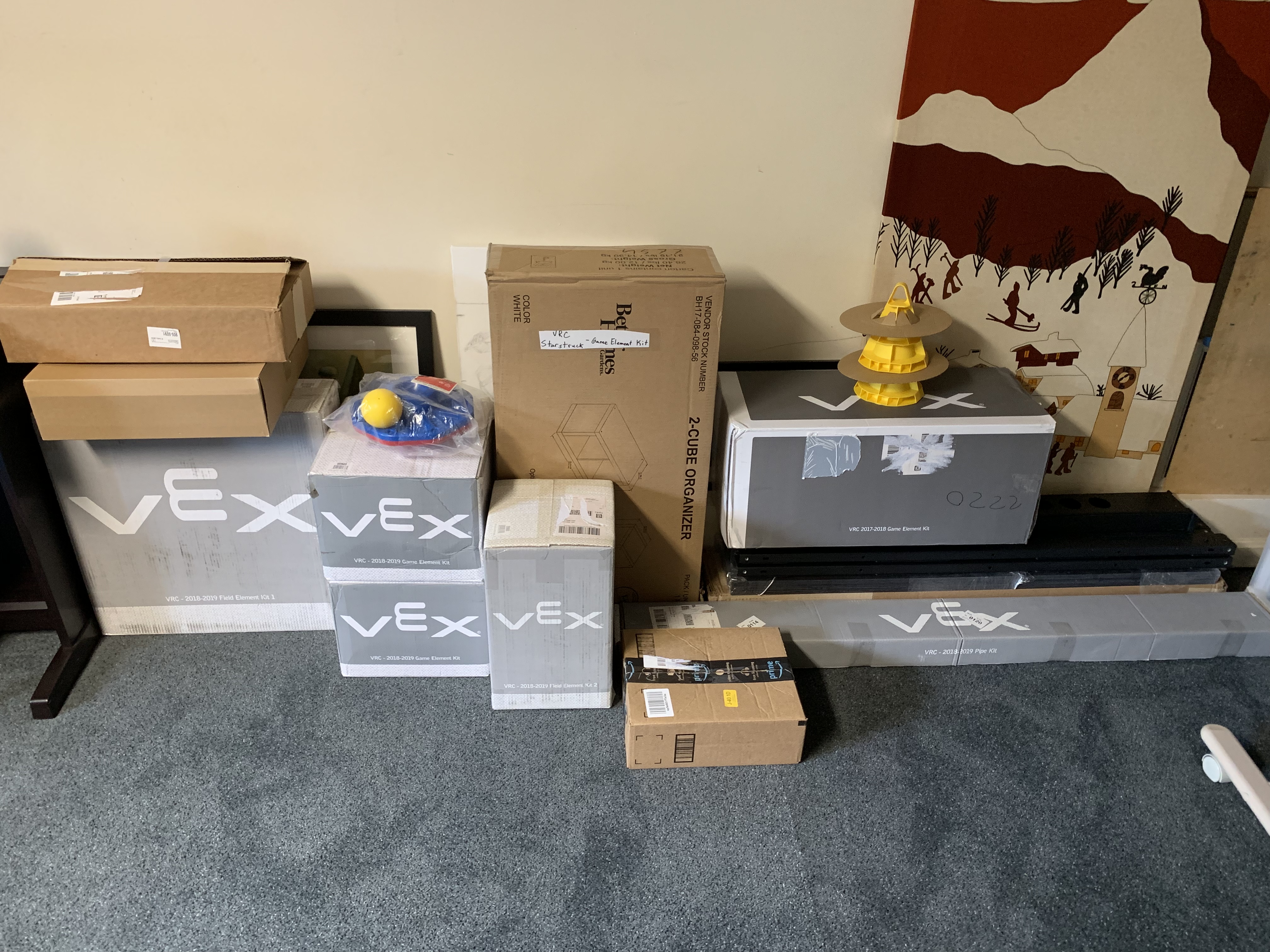 • Competition Field Perimeter Kit ($799.99) x1

**Box: Structure Pieces Set 1 **
Original Price: $463.17


• Chassis Kit, Large 35x35 ($24.95) (Not built) x1
• Aluminum C-Channel 1x2x1x35 (6-pack) ($34.99) (17.5" long) x1
• Cut Aluminum C-Channel 1x2x1x35 (5-pack) ($28.88) (17.5" long) x1
• Cut Aluminum C-Channel 1x2x1x32 (1-pack) ($5.28) (16" long) x1
• Cut Aluminum C-Channel 1x2x1x31 (2-pack) ($10.40) (15.75" long) x1
• Cut Aluminum C-Channel 1x2x1x26 (2-pack) ($8.58) (13" long) x1
• Cut Aluminum C-Channel 1x2x1x25 (2-pack) ($8.42) (12.75" long) x1
• Cut Aluminum C-Channel 1x2x1x24 (1-pack) ($3.96) (12" long) x1
• Cut Aluminum C-Channel 1x2x1x22 (1-pack) ($3.63) (11" long) x1
• Cut Aluminum C-Channel 1x2x1x17 (2-pack) ($5.78) ("8.75 long) x1
• Cut Aluminum C-Channel 1x2x1x12 (1-pack) ($3.96) (6" long) x1
• Cut Aluminum C-Channel 1x2x1x9 (3-pack) ($4.46) (4.5" long) x1
• Cut Aluminum C-Channel 1x2x1x8 (1-pack) ($1.32) (4" long) x1
• Cut Aluminum C-Channel 1x2x1x6 (2-pack) ($2.15) (3.25" long) x1
• Cut Aluminum C-Channel 1x2x1x5 (5-pack) ($4.13) (2.5" long) x1
• Cut Aluminum C-Channel 1x2x1x4 (2-pack) ($1.32) (2" long) x1
• Cut Aluminum C-Channel 1x2x1x3 (4-pack) ($1.98) (1.5" long) x1
• Aluminum Bar 1x25 (8-pack) ($14.99) x1
• Cut Aluminum Bar 1x15 ($2.25) x2
• Cut Aluminum Bar 1x13 ($1.00) x1
• Cut Aluminum Bar 1x11 ($$0.83) x1
• Cut Aluminum Bar 1x10 ($.2.25) x3
• Cut Aluminum Bar 1x8 ($0.60) x1
• Cut Aluminum Bar 1x7 ($1.58) x3
• Cut Aluminum Bar 1x5 ($1.80) x5
• Cut Aluminum Bar 1x4 ($$1.20) x4
• Cut Aluminum Bar 1x3 ($.0.45) x2
• Cut Aluminum Bar 1x2 ($0.75) x5
• Steel Bar 1x25 (3-pack) ($4.88) x1
• Cut Steel Bars 1x15 ($3.90) x4
• Cut Steel Bars 1x14 ($0.91) x1
• Cut Steel Bars 1x10 ($3.90) x6
• Cut Steel Bars 1x9 ($1.17) x2
• Cut Steel Bars 1x7 ($2.28) x5
• Cut Steel Bars 1x6 ($3.12) x8
• Cut Steel Bars 1x5 ($1.63) x5
• Steel Bar Scraps ($12.00) x1
• Steel Bar Scraps ($12.00) x1
• Aluminum Angle 2x2x35 (5-pack) ($29.16) (17.5" long) x1
• Cut Aluminum Angle ($4.13) (12.5" long) x1
• Cut Aluminum Angle ($6.60) (10" long) x2
• Cut Aluminum Angle ($5.78) (8.75" long) x2
• Cut Aluminum Angle ($2.64) (8" long) x1
• Cut Aluminum Angle ($2.48) (7.5" long) x1
• Cut Aluminum Angle ($3.30) (5" long) x2
• Cut Aluminum Angle ($2.97) (4.5" long) x2
• Cut Aluminum Angle ($2.97) (3" long) x3
• Steel Angle 2x2x35 (4-pack) ($17.99) x1
• Steel Angle 2x2x25 (4-pack) ($14.99) x1
• Cut Steel Angle 3x3x31 ($36.58) x2
• Cut Steel Angle 3x3x25 ($14.75) x1
• Cut Steel Angle 2x3x10 ($11.80) x2
• Cut Steel Angle 3x3x7 ($4.13) x1
• Cut Steel Angle 3x3x5 ($5.90) x2
• Cut Steel Angle 3x3x4 ($9.44) x4
• Linear Motion Kit ($24.99) x1
• Cut Linear Motion Kit ($16.99) x1
• Plate 25x5 ($3.75) x1
• Cut Plates 3x5 ($3.60) x8
• Cut Plates 6x5 ($0.90) x1
Box: Structure Pieces Set 2
Original Price: $607.52


• 5" Wheel (4-pack) ($19.99) x1
• 4" Wheel (4-pack) ($19.99) x1
• 4" Omni-Directional Wheel (2-pack) ($24.99) x1
• 4" High Traction Tire (4-pack) ($12.99) x1
• 3.25" Traction Wheel (4-pack) ($19.99) x1
• 3.25" Omni-Directional Wheel (4-pack) ($39.99) x1
• Claw Kit ($19.99) x1
• Sprocket and Chain Kit ($29.99) x1
• High Strength Gear Kit ($19.99) x1
• Rack Gear v2 (16-pack) ($19.99) x1
• Winch and Pulley Kit ($14.99) x1
• Drive Shaft 12" (4-pack) ($8.96) x1
• Cut Drive Shaft 12" (4-pack) ($5.25) x1
• Nut Bar (4-pack) ($4.99) x1
• Cut Latex Tubing (10") ($29.97) x3
• Tool Kit ($10.00) x1
• Pillow Block Bearing & Lock Bar Pack ($7.99) x1
• Rubber Link (4-pack) ($7.99) x1
• Rubber Shaft Collar (30-pack) ($5.99) x1
• Clamping Shaft Collar (10-pack) ($4.99) x1
• Drive Shaft Bar Lock (8-pack) ($12.90) x2 (1 is cut)
• Bearing Flat (10-pack) ($19.96) x4
• Bearing Attachment Rivet (50-pack) ($7.99) x1
• Shoulder Screws 8-32 (25-pack) ($9.99) x1
• High Strength Shaft Insert Kit ($9.99) x1
• Shaft Coupler (5-pack) ($4.99) x1
• C-Channel Coupler Gusset (8-pack) ($19.99) x1
• 45-degree Gusset (6-pack) with 2 cut ($4.99) x1
• 90-degree Gusset (4-pack) ($12.99) x1
• 8-32 Couplers 1" (25-pack) ($4.95) x1
• 8-32 Couplers 0.5" (25-pack) ($2.95) x1
• 8-32 x0.125" Setscrew (32-pack) ($4.99) x1
• Shaft Collar (16-pack) ($7.99) x1
• Plastic Spacer (20-pack) (4.6mm) ($5.98) x2
• Plastic Spacer (20-pack) (8mm) ($5.98) x2
• Drive Shaft 2" & 3" Pack ($10.98) x2
• Nut 8-32 Keps (100-pack) ($2.99) x1
• Nut 8-32 Nylock (100-pack) ($3.99) x1
• Nut 8-32 Hex (200-pack) ($5.99) x1
• Washer, Steel (200-pack) ($4.95) x1
• 8-32 Screws 1/4" (100-pack) ($7.49) x1
• 8-32 Screws 3/8" (200-pack) ($14.98) x1
• 8-32 Screws 1/2" (100-pack) ($7.49) x1
• 8-32 Screws 3/4" (100-pack) ($9.99) x1
• 8-32 Screws 1" (100-pack) ($9.99) x1
• 8-32 Screws 1.5" (50-pack) ($7.49) x1
• 8-32 Screws 2" (25-pack) ($7.49) x1
• Standoffs 1/4" (10-pack) ($2.95) x1
• Standoffs 1/2" (20-pack) ($5.90) x1
• Standoffs 3/4" (10-pack) ($3.95) x1
• Standoffs 1" (10-pack) ($3.95) x1
• Standoffs 2" (10-pack) ($7.95) x1
• Standoffs 3" (4-pack) ($13.90) x2
• Standoffs 6" (4-pack) ($9.95) x1
**Box: Electronics Set **
Original Price: $1,483.17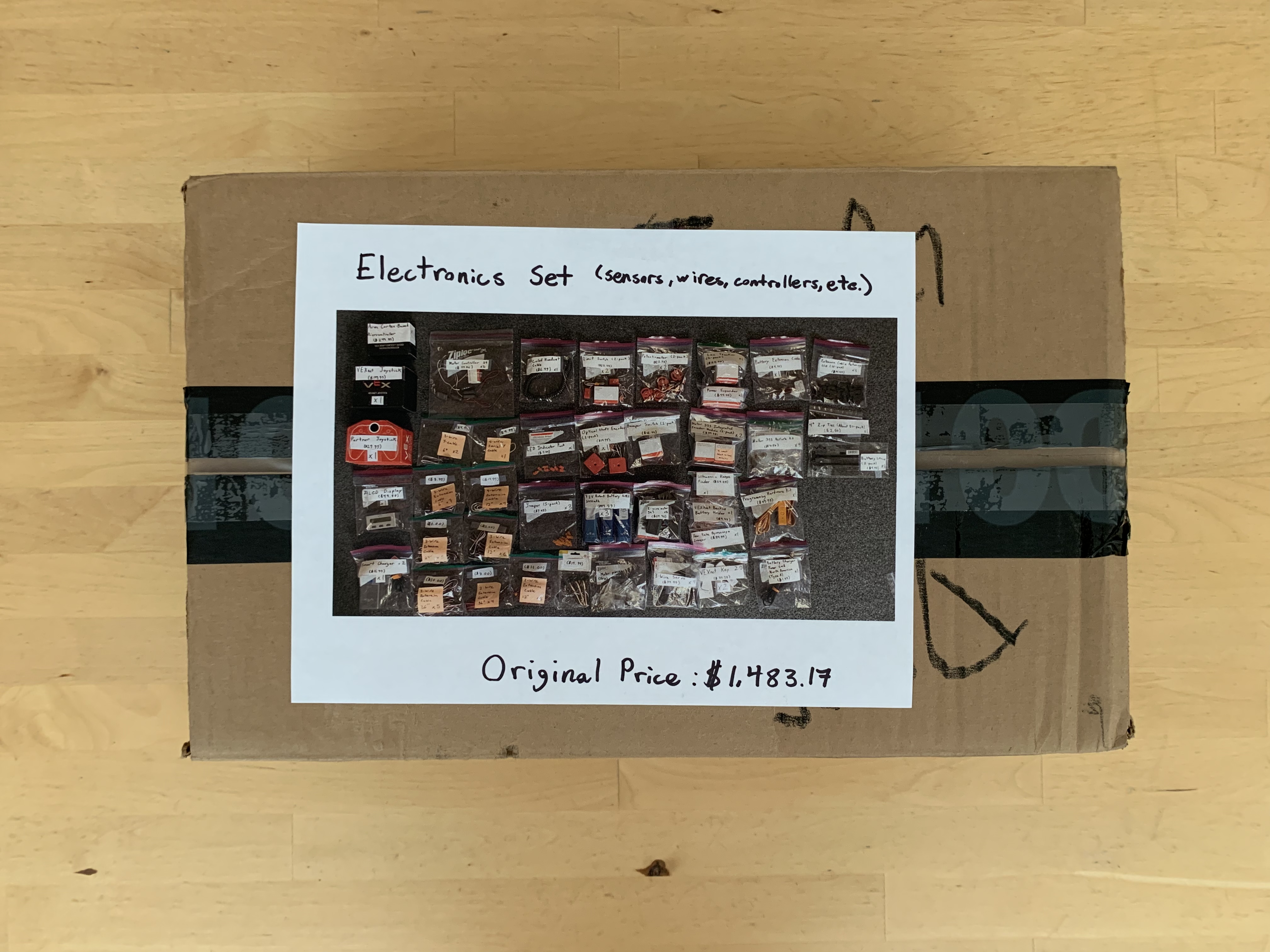 • VEX Arm Cortex-Based Microcontroller ($249.99) x1
• VEXnet Joystick ($149.99) x1
• Partner Joystick ($29.99) x1
• LCD Display ($49.99) x1
• Smart Charger v2 ($16.99) x1
• Coiled Handset Cable ($6.99) x1
• 7.2V Robot Battery NiMH 3000mAH ($89.97) x3
• Battery Charger Power Cord - North America (Type A) ($1.99) x1
• Battery Extension Cable ($4.99) x1
• VEXnet Backup Battery Holder ($9.99) x1
• Programming Hardware Kit ($49.99) x1
• VEXnet Key 2.0 ($79.98) x2
• LED Indicator Pack ($9.99) x1
• Jumper (5-pack) ($7.47) x3
• Extension Cable Retaining Clip (10-pack) ($14.97) x3
• 4" Zip Ties (About 50-pack) ($2.50) x1
• Battery Strap (2-pack) ($4.99) x1
• Limit Switch (2-pack) ($25.98) x2
• Optical Shaft Encoder (2-pack) ($19.99) x1
• Potentiometer (2-pack) ($25.98) x2
• Bumper Switch (2-pack) ($12.99) x1
• Line Tracker (3-pack) ($39.99) x1
• Power Expander ($49.99) x1
• Ultrasonic Range Finder ($29.99) x1
• Yaw Rate Gyroscope Sensor ($39.99) x1
• 2-Wire motor 393 ($119.92) x8
• Motor 393 Integrated Encoder Module (2-pack) ($59.98) x2 (One is missing 4 small black screws)
• Motor 393 Refurb Kit ($19.96) x4
• 3-Wire Servo ($79.99) x4
• Motor Pieces (Free) x1
• Motor Controller 29 ($59.94) x6
• 4-Wire Serial Y Cable ($7.99) x1
• 4-Wire Extension Cable 12" ($19.99) x4
• 4-Wire Extension Cable 12" (4-pack) ($19.99) x1
• 3-Wire Y-Cable 6" ($4.99) x2
• 3-Wire Extension Cable 6" ($8.75) x7
• 3-Wire Extension Cable 12" ($12.00) x6
• 3-Wire Extension Cable 24" ($10.00) x5
• 3-Wire Extension Cable 36" ($10.00) x5
• 2-Wire Extension Cable 12" ($16.00) x8
• 2-Wire Extension Cable 36" (8.00) x4
PLUS
• VEXnet Joystick Power Adapter ($12.99) x1

• Akro-Mils 10144REDBLK 44-Drawer Hardware & Craft Plastic Cabinet, Red & Black ($15.00) x1