The kid who goes to the amusement park instead of coding.
The lonely one-person team in their first year.
The one teammate who does nothing but takes credit for doing everything during interviews.
The one teammate who does everything but is to modest to say anything during interviews.
the friend you bring to robotics that ends up having a better attendance rate than 75% of your team
edit: forgot to mention, he also cleans!
The one-person team at an interview:
Judges: So since you're a one-person team, you built this whole robot and programmed it all by yourself?
Team: Yes.
Judges: Are you sure?
Team: Nooo, I have my imaginary friend next to me that did all the work. (Hint of sarcasm.)
Judges really do be thonking: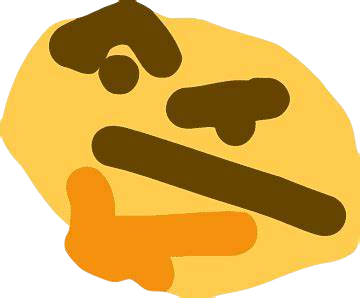 I saw somebody like that a VRC comp.
The guy who is elected captain even though they are clueless since nobody else doesn't want the responsibility.
The one teammate who uses the engineering notebook as lyrics for songs.
sorry, but i beat both of u by going to worlds AND getting an award with a score of 2 in states
who even does that
it's called an 'engineering' notebook for a reason
Our (stereo)typical 4hr build session:
First 30 min - while waiting for everyone to arrive, sharing latest memes.
Next 30 min - everyone's here, need to choose good song for the build session.
Next 30 min - we got only three screws done - apparently we need better song.
Next 30 min - still arguing about the best music to play. Main builder, who is the only one doing anything with the robot, suggests we should check vexforum instead of playing random stuff off youtube.
Next 30 min - checking memes on vexforum, main builder is getting distracted by the rest of the team and not doing much work either.
Next 30 min - everyone's exhausted - TikTok break.
Next 30 min - making lighthearted fun of our builder, who is freaking out that we got nothing done again. Everyone starts searching for our "This is fine" plush toy
Last 30 min - we still couldn't find it, but it's time to clean up.
The meeting was fun!
We actually had a Virus team a couple years ago that was literally just like this (except no TikTok, just arguing about the songs).
So you're telling me… that there are people… who know the person… behind Ilyana!?!
Yes. ​​​​​​​​​​​​​​​​​​​​​​​​​
That person that doesn't follow the rules so brings this to worlds.
That one person who puts a bunch of time and effort into the robot but they are gone all summer so nothing gets done
Couldn't be me
The person who builds random stuff and pays no attention to the robot
A month without a single post? I won't let this record stand any longer.
The judge that gets pissed off when you talk to him
the teammate that overcomplicates building a 4-bar
??? Isn't talking to a judge the whole point of an interview???