i would honestly agree, however there is more information.
To be honest, I like the new website better, like with any initial bot design, there are flaws when the new design is pushed out. You could say it's an early season website:)
I like how the buttons are big now so that it's easy to press them(at least on mobile) and it feels more image oriented for some reason.
The small imperfections are ok, hopefully they'll be fixed later.
I like the new website, it is becoming better and better.
However, the header looks so-so, and sometimes it sticks awkwardly into the page:

Also, the VEXCode download links is the only element that sticks out from the page margins, making it look slightly out of place: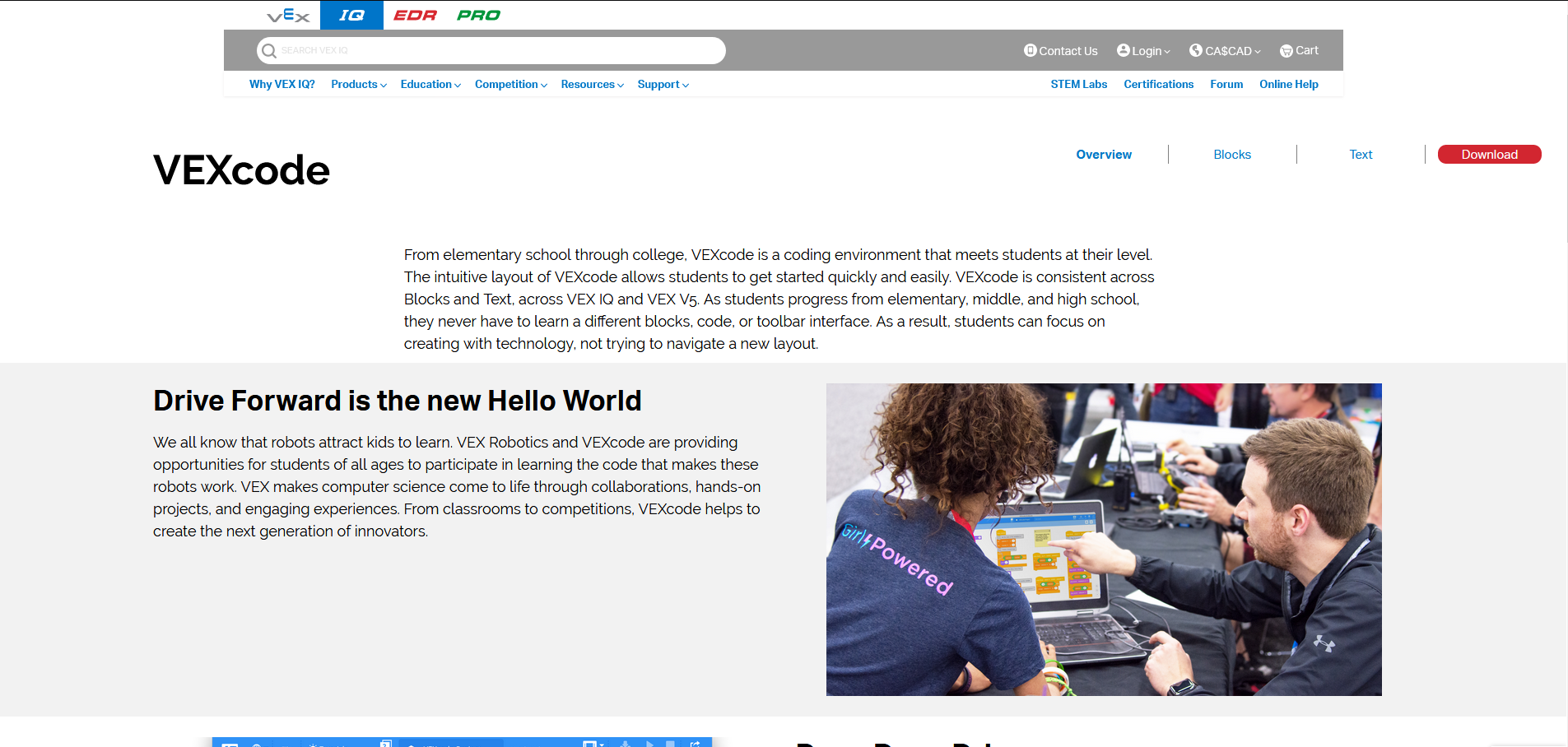 Aside from those two things I noticed while browsing, it's looking very nice.
where can i find this photo?
That's a screenshot of the website
Looks like our savior @DRow just updated the forum to match.
I know that to me this new forum layout just seems weird. It doesn't look bad, per se, but there is a lot of empty space where eye is drawn on the top toolbar, and it seems much less colorful.
The forum header seems more confusing now in my opinion. The "VEX" button in the top-left directs to the forum home here, while it directs straight to vexrobotics.com elsewhere. Yet the other links (EDR, IQ, PRO) all link to their corresponding vexrobotics.com pages. Having a button that does the same thing everywhere except one place, especially considering all the other buttons keep working there, is confusing to new users.
I think these links in the header should either match their function on other sites exactly (i.e., the VEX button would link to the vexrobotics.com site), or should be specific to the forum (i.e., the EDR and IQ buttons would link to the corresponding forum categories).
Edit: Looks like there's a bug! The title seems to be showing up in the header for some reason…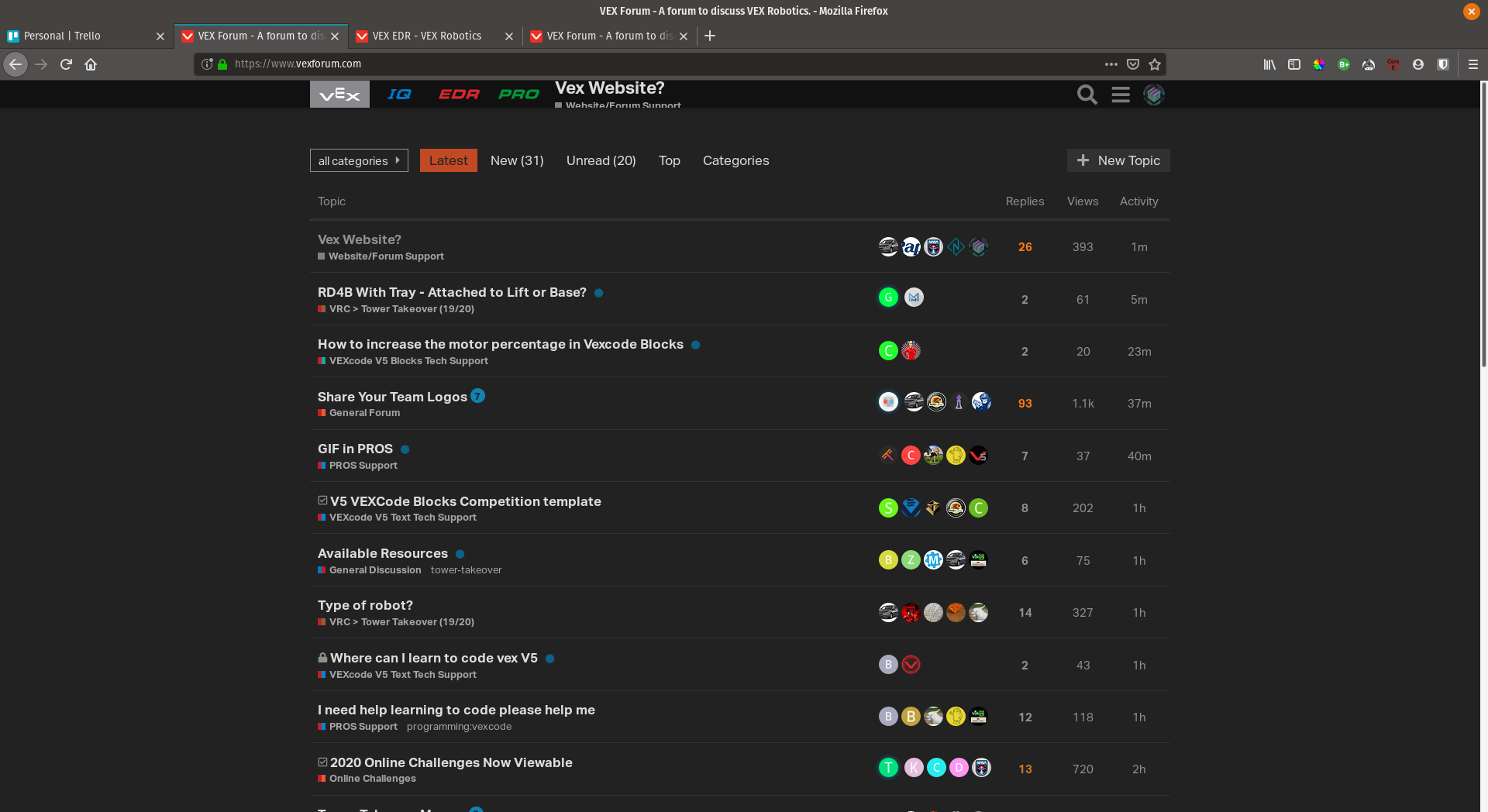 And now it's just blank: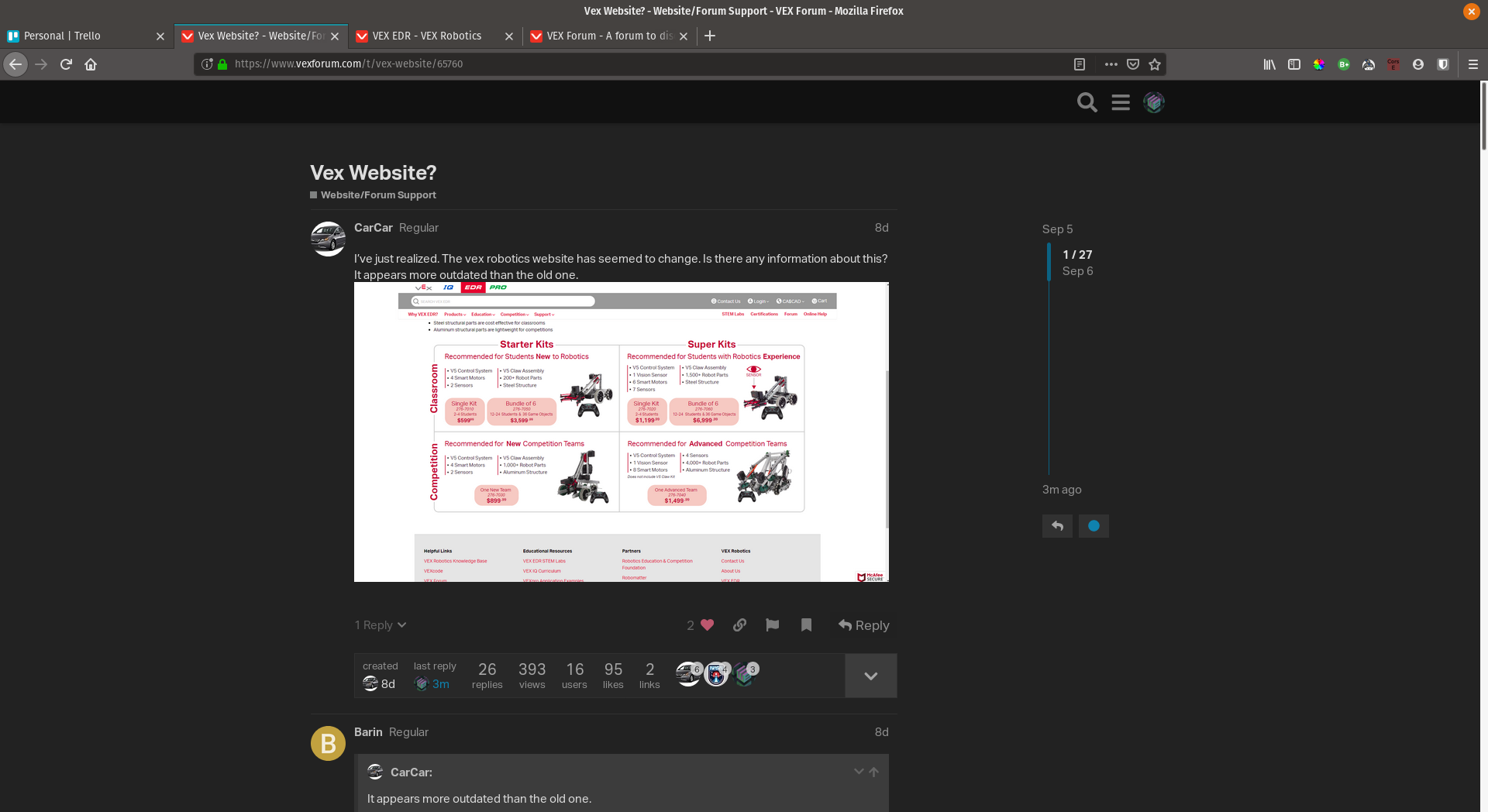 This was an issue when we first updated the header, but was fixed shortly after. Can you completely refresh the page in your browser and see if that fixes it for you?
Edit: Looks like a few cases are still present – we're working to fix.
I absolutely love the simplistic header on the VEXForum, but in regards to the body of the website I do feel as if much of the page seems like blank space on the sides.
In terms of the vexrobotics website, I have mixed feelings. Considering VEX having a theme of robots and designs with sharp edges, I do not really like the roundness for the search bar as well as the individual buttons. For me, it just starts to feel like slides made in PowerPoint (Irony intended if you know my history of PowerPoint

). I get that the intentions are to immitate Google Chrome, but sometimes having a distinction between themes would be more fitting. In addition, I will garuntee you that even most of us don't really like the new theme for Google Chrome with how they decided to round off almost anything in plain sight.
This. I like very sharp, square, 90 degree themes. Maybe we can set a preference in account settings for the old site, like you can on Reddit?
Yeah, I'm also not a huge fan of the search bar. People are used to search bars being in the middle:




Or towards the right:



(note that it's just an icon here, not a full search bar)


But I can't find another instance of the search being on the left like it is on vexrobotics.com:

Do a refresh of the entire page if you see any more of this coming up. I think we've got them taken care of, now. If not, let us know.
Cleared all data for vexforum.com, so there should be nothing cached. All of this is on Chrome for Android, version 77.0.3865.73, and obviously on a phone screen.
This is what the header looks like normally and when scrolling down:


When scrolling up:


And when scrolling up and reaching the top of the page:

Note that the third header is shorter than the others.
I don't like how thin the new top header is.
It's better when you scroll down.
Also, I miss the "Vex Community Forum" logo, which is now replaced by VEX's branding.
On the phone, when I scroll up, sometimes the vex logo disappears and I cant click ok it to return to the home page. I have to scroll down again, which kinda annoys me
The way their having it with tabs for iq edr and pro it might make sence to just a button for vexforum. It would also be a lot more obvious for new people going on the vexrobotics website. Also why couldn't they change it test it and then release it.