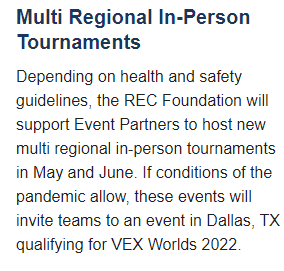 plz explain^
You left out an option:
I prefer the next game reveal to happen on the normal date and change up not be extended
I guess they r like FIRST's Super Regionals (but there will be more of them and will qualify to an other event [not Worlds]). We will probably know more about them in the coming months (especially after the town hall).
I'm not disputing that they are better. I'm just wondering why we wouldn't want to sent the best robot to the world championships. If we want to say it's the best of the best then it need to be the best people that will perform the best in that format.
Dan is typing again
20char
True… this is definitely worth clarifications.
using 2020/21 game to qualify forn2021/22 worlds?
If that's the case, doesn't sound right.

where are the spots coming from? From signature events? Or from some regions?
(FYI… Singapore HS has been reduced to 1)
Do we have to pay for the virtual world Championship?
I understand your sentiment. I really do. But I always committed to making a decision the first week in January to see how the pandemic situation evolved. There was talk that the vaccine would be more widely distributed and that social distancing would have a greater impact. And when it became clear that we would not be able to host the in person event in April, we thoroughly investigated moving the event to later in the year. And we also wanted to continue to develop and test the Live Remote Tournament system to see if it was a viable alternative. We also have many regions having live events that were campaigning to not make any changes to in person VEX Worlds. Once we made the decision, it does take time to meet with our partners, sponsors and suppliers to talk through the options and review contracts.
We wanted to extend the "regular" season. Many schools are just starting their robotics season now and if we kept the original schedule, many of these schools would not have had time to build their robot and compete in any tournaments. By moving VEX Worlds to late May, we were able to extend the season by 6 weeks.
Quite honestly, VRC and worlds is not about sending the best robots to Worlds and then finding the best robots in the world. If it was, they wouldn't have gone from BO3 to BO1 in eliminations. You can have what opinion you want about that, and I suspect it's the same as mine, but the reality is that that's clearly not the goal of the RECF. Their goal is, in descending order, to inspire kids to do STEM, to have a fun competitor experience, and to have a competition that determines who built the best robot.
And ultimately having an in person state championship is gonna do a lot more for the enjoyment of teams than ensuring the best teams for the format get to attend a live remote tournament which, quite frankly, I do not expect to be a great experience. I don't mean to bash the RECF's work there, you just can't compete with in person even though they're very clearly trying their hardest.
I get it. There are RECF employees that we hired in 2019 or later that have never been to VEX Worlds either…
Another issue is that if we are saying that the pandemic is bad enough to make worlds virtual (which it is), why should we be going to an in person state competition…
People are complaining that we might have to pay for the virtual worlds championship registration fee because it's virtual
We will be crowning World Champions in the Live Remote Skills and Live Remote Tournament competitions.
Different levels of bad. NZ has completely eliminated covid, so they can have an in person championship with no masks. They definitely should not be flying to Texas, however. The expectation is with the advent of the vaccine, cases in some regions might start to come under control. Also, attending a one day event is way different than air travel + staying in a hotel for a few days.
yep, I see nothing wrong with extending the change up season. I think it's a good thing for the reason's you've stated.
but I don't see why that has to mean that the 2021-2022 season has to be shortened. my request is for the next game to be unveiled at the normal date so that the large majority of teams who aren't attending worlds can get on with the next season.
A state is a lot smaller than the world, a State tournament has a LOT less people competing / running it.
It's not 'virtual'. Worlds 2020 was virtual. Worlds 2021 will just be remote.

There are still actual costs associated with hosting the event.
Our intent is for VEX U and VAIC to be in person competitions in June. We will share more details at the Town Hall.
I get that but is 100 preventable deaths better that none? I understand other peoples opinion but at some point we have got to just stop do dumb things. And honestly doing ANY in person competition isn't really smart.