Fully aware and agreed… hence why we're only evaluating at this time

For the 1.0 release of VEXcode V5 Text, we will include video tutorials, just like the ones that currently exist in VEXcode IQ and V5 Blocks. We added help for each command for VEXcode V5 text with the 0.9 release. We'll be enhancing it for the 1.0. Also, don't forget that there is a lot of information about all of the software at help.vex.com
Is support for Okapi lib planned?
lack of support is currently a deal breaker
This issue is resolved in the latest version of VEXcode IQ Blocks. Thanks for reporting it!

For the 1.0 release of VEXcode V5 Text, we will include video tutorials, just like the ones that currently exist in VEXcode IQ and V5 Blocks.
Great - thank you for doing this. Are they subtitled as well?
All VEXcode video tutorials will be subtitled in all app supported languages.
Would like Portuguese as a supported language.
Super, thanks!!!
20 character minimum reached.
Would someone from VexCode Text be able to provide insight as to when a chrome store version of Vecode text might be available? The feature List for 1.0 does not mention Chrome store directly and the website just mentions it's coming soon.
We used Robot C and now are using VexCode Text exclusively in the past/present, and are finding a need to do a laptop refresh, but would like to avoid the cost of getting new windows laptops just for Vex… having vexcode text run on Chromebooks would allow us to provide more compute platforms. Since we have expanded to three teams (from 1 ) this year we are looking to increase the number of laptops, but have been delaying in hopes of a Chromebook compatible release.
Cheers Kb
What is the estimated release time for version 1.0 of V5 Text?
From this post, it's late September / early October:
Is there a config file I can use to set up IQ Blocks to map directly to a shared drive? I am setting up VEXcode IQ Blocks for a school; so that when the hit the "Open" button on the File tab, they don't browse to the shared drive, instead the file explorer just opens on that drive directly.
Thank you.
answered here
VEXcode remembers path to files and last open/save location.
Just a quick sneak peak as we're getting close to the release of VEXcode V5 Text 1.0…
Some key features apart of 1.0:
Robot Configuration Tools
Improved Autocomplete
Simplified SDK Commands
40+ Example Projects
Tutorial Videos
Light Mode Editor Theme
Integrated Command Help
Integrated Command Reference
Spanish and Simplified Chinese Language Support (Preview)
User Feedback Tool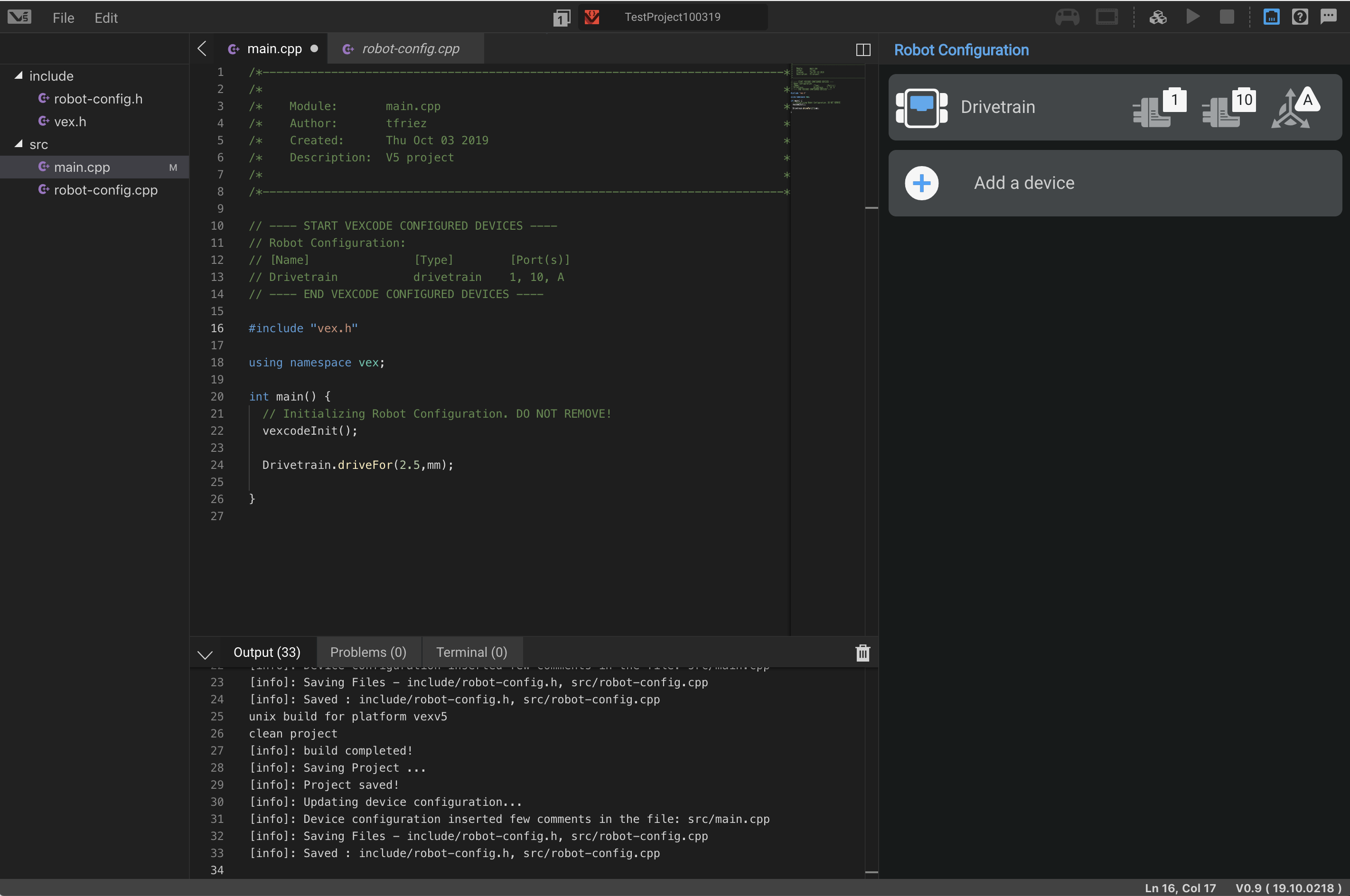 Look for VEXcode V5 Text 1.0 early next week!