Hi, my brain will not connect to vexcodeiq but it will connect to vexos, pls help
If you have both open at the same time, try closing the VexOS Utility when you're using VEXCode.
There could be a conflict between both programs trying to connect to the same IQ brain at once.
I don't have both programs running at the same time
I may have gotten a 2nd gen brain though because I sent my brain to vex because it wasent work I and they sent me a new in the last week so that could be part of the problem I might have to wait untill 2nd gen vexcode comes out
The easiest way to check if it is a the new IQ brain is whether or not it uses USB-C? Or any of these other comparisons.
I'm pretty sure it would be cross-compatible. Either way. Unless there is some strange bug.
It does also say VEXcode should work with it.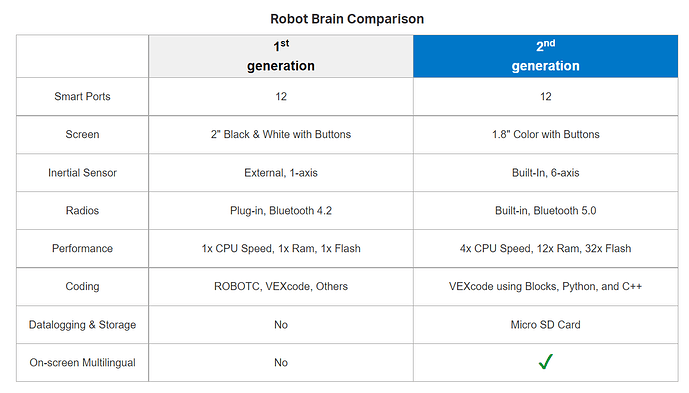 Ok its definetly gen 1 I will try using ROBOTC to code it though I've never used it before
ROBOTC will not sense that the robot is connected either just like vexcode.
Any other theories anyone?
preform a hard reset and enter brain into DFU mode (hold up and down arrows and power on at same time) and then update it with VEX OS and try again with VEXCode IQ… make sure that it's the blue IQ version… I have students that downloaded the red V5 version
My pc dosent sense the brain when its in reset mode
I mean vexos dosent sense the brain in reset mode my pc says its plugged in
do you have another brain that you can hook up and see if it detects that one?
No I'm a home team and can't afford another one
Make sure the IQ is updated to latest vexos which is version 2.1.5, it will show that on the brain using the system info menu.
I assume you are using a PC (as you tested RobotC), check the IQ is being detected by the PC, open the device manager and look under "ports", you should see something like this.
Two devices that say VEX IQ
If that's missing then the issue is a driver or hardware (USB port) problem.
If they have unusual names or something then post back here.
Make sure you are using the correct version of VEXcode, we have separate versions for V5 and IQ.
My brain is up to date and my pc will show it under the control panel
Actually I had that problem once. Where the robot was showing in the control panel but not VEXcode. I think it was a dodgy connector cable, because I swapped to another cable and it connected in VEXcode.
I tried with 3 cables that transfer data
I'm all set now, Vex said they will test one at there office to make sure it works, and then send it to me.
For anyone else who has this problem contact vex