After using VEXcode for a week, the biggest problem I've found was that the code doesn't always upload to robot either by cable or controller.
Since this seems to be made by robomatter, will it become a paid-for application like RobotC was for a long time? Not trying to give anyone any ideas, but I'd actually like to know.
Will you be able to read and write text files with VEXcode on the V5 brain? I wanted to save certain values to a file to view later on my computer for better debugging (far more information than the V5 screen could handle) and to try and translate how my driver would go about our auto strategy to actual autonomous code.
I doubt it. The code is converted into binary to upload it. You could in theory use a microSD card in the brain, but would need to upload a picture of your text file.
You can save anything you want to files on the SD Card including text files. You can also stream text to the terminal window real time (within the limits of the connection you are using) that you can then cut and paste into a text document.
We'd like to thank everyone that has downloaded the VEXcode preview so far! As mentioned in the original announcement, we've taken some of the feedback from this thread to put towards our next release. It includes some bug fixes along with a few other optimizations.
Use the links below to download the new update:
PC - https://link.vex.com/vexcode-preview-pc
Mac - https://link.vex.com/vexcode-preview-mac
Thanks again for all the great feedback thus far. Please continue to provide us with any comments / questions / concerns below!
The full patch notes for Preview_02 are as follows:

File system modification will now cause a full program rebuild


Fixed build issue for machines where bash tools are installed
NOTE: This was a make file fix. All old projects will still have a mkdir error. You will need to update your older project with the new make files.

Added compression to files to reduce download size


Fixed issue with projects being loaded from cloud synchronized folders (onDrive,Dropbox,…)


Vision config file now scroll correctly


Minor UI fixes for color scheme, button states, and scroll issues


Fixed issue where too many terminal logs caused the UI to lock up


Fixed alignment issues with icons in file tree


Updated examples to new file format


Added the ability to import .zip files that are created with VEXcode


Fixed issue with external windows causing the app to not close correctly


Fixed issue with app crashing when using split panel view


Added confirmation dialog to reset button on vision config file


Reduced minimum window size to help with lower resolution screens
WOW was that fast! Will be trying this stuff out tonight.
Is this going to cause #AllBlackEverything again? Just wondering before I update…
It is April 1st… guess you'll just have to download it and find out.
It's April 1'st. Do I trust this. @DRow can you please tell me if it's safe to install?
I like that you have ReadMe.md files in the examples, nice attention to detail. Was probably always there, but just noticed it.
I'm installing right now. If I just get a rickroll… then to r/woooosh we go
Edit: Install was clear. No rickroll as far as I can tell ( ͡☉ ͜ʖ ͡☉)
No that's new.
Samples are now in the new preferred format using vex.h as header rather than robot-config.h. That allows us to have the readme file shown when the project opens. We will revise samples again before final release, they need a little TLC.
Sorry …not very good at VCS & VEX Code. Installed VEX Code update to our laptop. Thought (correct me if I am wrong), we then needed to update our V5 brain & all our hardware. We are currently using VEX Code. On VCS, we would go to the brain icon on the top left to update everything. How do we do updates through VEX Code? Can't find a similar button. Thank you.
Assuming you have already updated the V5 brain to vexos 1.0.6 which we released last week, there would have been no need to update to use today's VEXcode preview. The Application and SDK can be updated independently of the vexos system firmware. If the brain does need an update, this is shown on the toolbar. In addition to the connected and radio icons show here.

the toolbar can show that an update is needed if you are using a direct USB connection.
you can then update by clicking on the icon to show the device dropdown and clicking on update. The status is a bit crude at the moment, we will probably improve that in preview 3.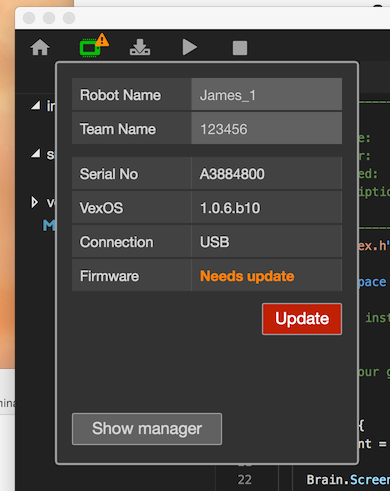 Thank you very much for such a thorough explanation. Yes, I did do the VEX 1.0.6 update in VCS last week so consequently it did not show that I needed an update. Thought I was doing something wrong when it didn't show I needed an update. Really appreciate your explanations as we are waddling along trying to understand a new programming platform.

Noticed there's nothing in the library for potentiometers. Will this be updated later when an official version is released?
We do not include a sample for every available sensor, but there is a sample that show hows to display the value of a potentiometer on the screen. I'm sure sample programs will be revised before final release.
Thank you! I did not like VCS at all due to all sorts of bugs that I have encountered, and the seemingly unreasonable amount of resource consumption. I like this Vexcode way more, since it is a text-only editor that is way better for text-only coding than VCS.
I only have one question: I can't seem to find where I can configure the vision sensor (like the vision utility in VCS). Any help?