VRC hub now works YAY (for me kinda). Now I don't know when this started working but I have come across a few interesting (and funny) ways to screw with the inputs of the app. Due to the way that the app is "broken" in accordance to the rules of the game and the physical realm it could possibly cause confusion.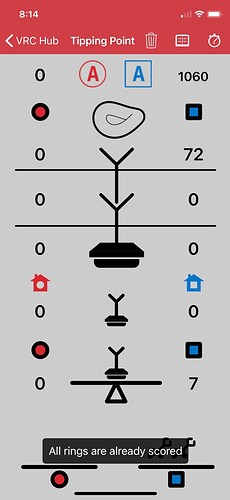 As you can see we have 7 Elevated Mogos and far more worrisome we have 72 rings scored on the high branchs. As one might have guessed this might not be possible for a number of physical and legality issues.
First I would like to challenge the vex community to score 72 rings on the high branch. With that aside
Why does the app allow for 7 mogos to be balanced or in the home zone. There is a clear scoring rule that says: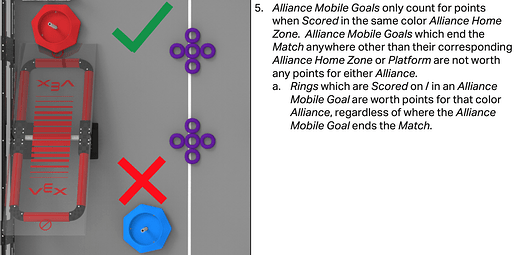 This rule clearly stats that what we just imputed into the app is not legal that can cause confusion. The reason why this is likely here is that it is legal in skills, while this does make logical sense it believe it can and will cause confusion. OFC I have 2 robots balanced as well so it can't be a skills run.
Other issues include that it doesn't have the game manual update for today and along with that the auton gives 20 points and not the new 6 points.
Overall some of these issues have a logical reason to exist but because of the mixing between skills and matches it can be incredibly confusing. As for the ones that just don't make any sense like 72 rings being scored on the high branch… how?
72 rings on the high branch
7 elevated goals that count for points with the ability to have 2 raised robots meaning that it has to be a match
not being updated to the newest game manual update (not too big of a deal as its day one)