What is the best robot you have built. This topic is basically vex show and tell .
please show a picture and talk a bit about your creation. If you want you can show your code!
I did build a clawbot once
aaaawwwww, no way! How epic was it?!?!?!?
It sounds… AMAZING!!!. Do you possibly have a pic?
TT was your first year? That's impressive…
Yes. Tower takeover was the first season I did vrc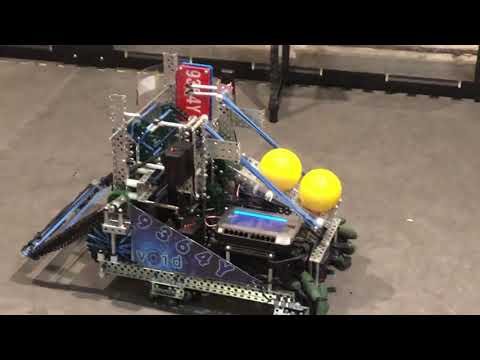 This one didn't end up competing as good as I'd hoped, But it was certainly my favorite robot I've ever built. proportional to the competition, this robot was the best one I've ever built imo.
(pls try not to cringe at the video ik its bad but I was in 8th grade and made it by myself the day before worlds lol)
How long did it take you to make it? It looks complicated. I only have vex IQ!
It wasn't entirely me, since I had 2 dedicated teammates, but

This was the bot we were planning to take to states. It clean sweeped a competition just 2 weeks before the state championship was scheduled.
I have one question, how fast are those motors. The motors on vex iq go pretty slow.
Our base was 4m 300 rpm on 4" wheels
The bot that got 175 driver skills for us took about 3 months to build and tune (a lot of this time was just spent practicing though. We put a lot of time into that aspect of the game). The bot you see in all the other pictures and videos was what was going to be our worlds bot, which took about 2 1/2 months to build. Most of it was built during quarantine before worlds was canceled, but it was never finished (I got pretty close though. Just needed some tuning, and wouldve been significantly better than our old bot)
wow, thats long. It took me about 1 hour to build my clawbot iq.
I don't have any pictures, but I made a wallbot in turning point.

I'll upload my best looking robot since it's kinda hot
I don't have a picture on me right now but In ITZ I had this really fast dr4/6b with 4 motors mounted to the towers 1:5 and instead of using gears I used string so the dr4b was extremely light. Sadly when I got to the U.S open I found out my sizing tool was off by a little bit and the robot was out of size in a way I couldn't fix quickly

(tape measure tape measure tape measure)
2018 worlds robot shown in this video (shameless self-promotion, I know). The special thing about this robot was that we didn't put the motors (or gears!) for the DR4B lift in the middle to save weight, and we actually managed to run it with only two motors (which was pretty uncommon). It allowed us to put 6 motors on the drive so we could have a 6 motor turbo (240 RPM) on 3.25" wheels for a good combination of torque and speed.


Here's a picture from us rebuilding our intake at the hotel room, lmao. Our parents were upset but it turned out to be a very good decision.