This post was flagged by the community and is temporarily hidden.
Maybe I don't understand what you mean by loophole, but this isn't a loophole in the game itself
This sounds less like a loophole and more like "how to annoy the referee"
This post was flagged by the community and is temporarily hidden.
Yeah i guess that makes more sense
When your opponnent is placing a stack in the scoring zone that is unprotected, until the cubes meet the definition of "placed," you can knock the stack over. So, if they are touching the stack, you can knock it over. You are not descoring cubes because they are not placed, so it is technically legal.
Practically, however, i have no clue how you would do it without "intentionally removing cubes from the field" or knocking over an existing stack, and any ref would probably still disqualify you regardless. just fun to know, i guess
I don't believe this will work,
btw: Cubes are "placed" in towers, and "scored" in scoring zones if I'm not mistaken.
And I don't think this will work because the manual states that you can't directly or indirectly change the number of cubes scored in the opponent zone (SG3).
At the same time, I am a little lost on what you're saying, perhaps you could explain a little more.
If you get enough cubes stacked the towers barely matter. If you stack 9 of each color and get auton bonus, your opponents have to stack at least 26 cubes to win, along with stacking in the towers.
Well my Ri3d (haven't edited or uploaded yet, dunno if I'll get round to it for a while), when fully extended, can be intentionally tipped if I try hard enough, and I could use that to block one of the opposite alliance scoring zones whilst not in their protected zone. Afaik, it's fully legal.
You're right, I don't see anything illegal about this (but your robot might be "injured" after the match).
Welp, since the updated game manual just came out today, that has been fixed anyways, but I guess I'll still explain. You were right, I meant scored, but as for SG3, it was not changing the amount of cubes scored in the opponents zone because it was not scored yet.
This does depend on the robot design. If it's stacking one cube on top of 7, those bottom 7 are in fact scored. It's similar to In The Zone, if there's a 14 cube/cone stack, touching the 8th cube from the bottom, that cube and everything above aren't scored, but the ones on the bottom are, you can mess with the cubes above all you want, but knock over that bottom seven and it's game over for you.
Yeah, which is why i mentioned the problems with the practicality of the design, you can only mess with the ones your opponent is touching, but it seems as if with the new rule those cubes are treated as an extention of the robot, so the "loophole" is irrelevant now.
I suppose it is, but it was a great topic to bring up!
If you stack 12 of each color and grab another cube in your intake you automatically win regardless of auton.
I think a lot of people underestimate how hard it will be to get 12+ of each cube, you aren't the only alliance fighting for cubes
Just building a bot that can score 12 of each color in 2 minutes is a huge challenge.
And that's why I said 9 of each and autonomous bonus. You have 2 preloads plus 2 match loads leaving you with 23 cubes to pick up around the field and stack. Versus your opponents who have 2 preloads and to need to get 24 more cubes and place 4 cubes in the tower to win: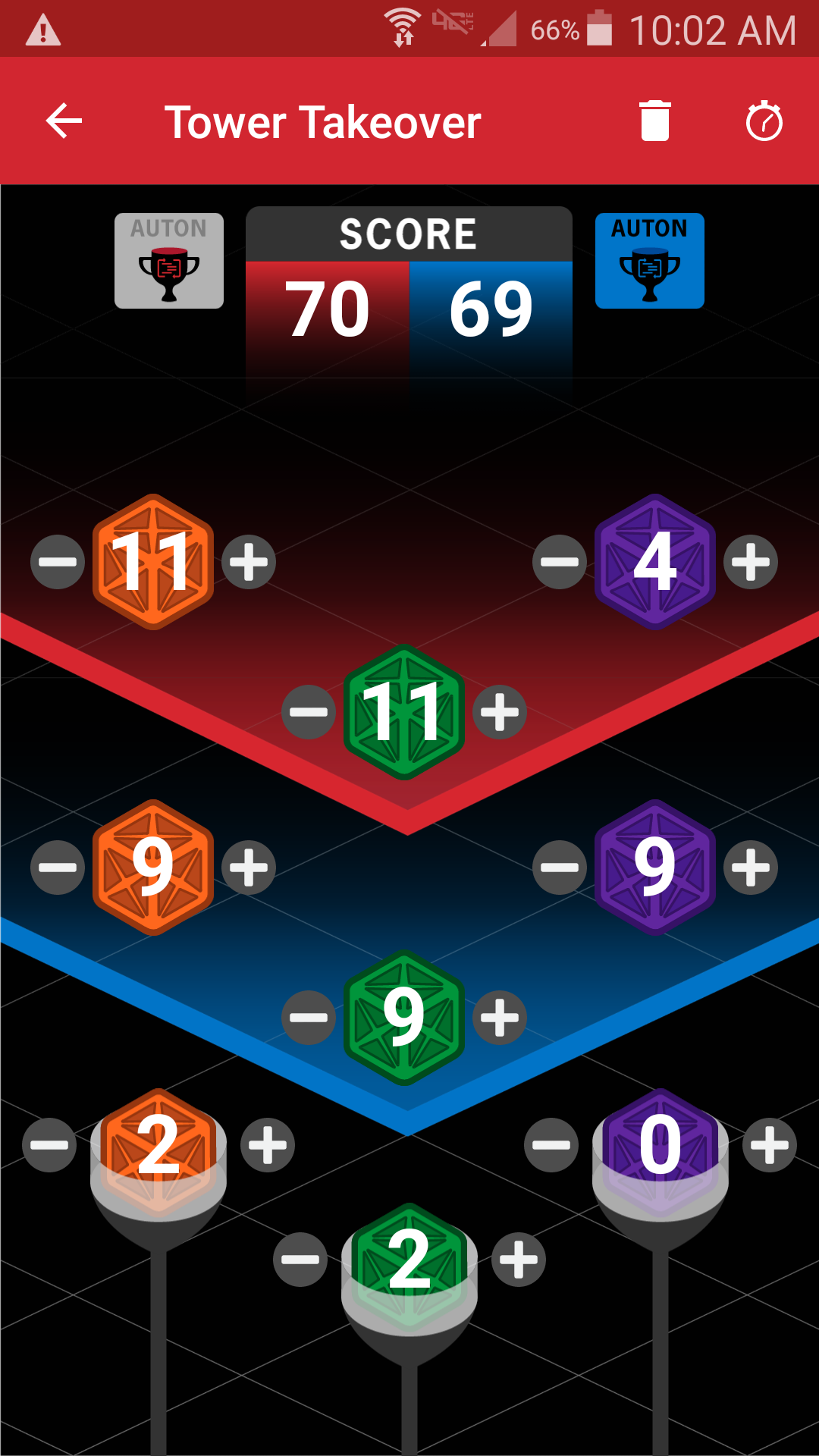 Plus, in this situation, which is the best way for red to win, simply placing 1 purple cube or taking out 1 other cube from the towers brings the win back to blue
Careful though, if they are touching the 3rd cube from the bottom and you knock over the 2nd cube from the bottom that would be descoring a scored cube