My team will be going to Worlds for the first time, and the students and coaches are clueless and anxious. I'm trying to decipher this very tentative agenda: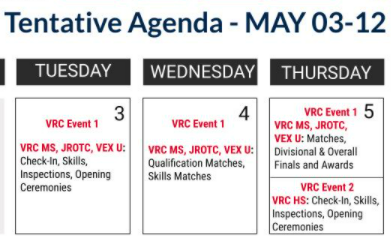 So Day 1 is skills only, Day 2 is skills and qualifying matches, and Day 3 is finals? What are "divisional" and "overall" finals? How many teams are expected to make it to Day 3?
How many qualifying matches do teams play?
What does a typical Day 1/2/3 look like?
How do you get your robot to TX (drive/ship/carry-on/checked-in luggage)? We're in MI.
Do teams stay on- or off-site?
How do you get your robot from/to the convection center?
Any other logistics-related pro tips?